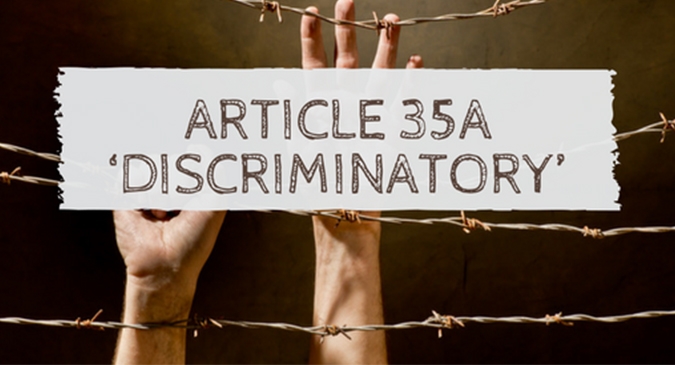 III. The right of female married to a non-permanent resident with respect to disposal of property inherited by her through parents.
IV. Further issues regarding divorcee, Khanadamad and widow on which the law is not very clear.
Following is the operative part of the judgement.
In the ultimate analysis, my answer is in negative to the question referred to the Full Bench for its consideration. Accordingly, I hold that the daughter of a permanent resident of the state of Jammu and Kashmir will not lose status as a permanent resident of the state of Jammu and Kashmir on her marriage with a person, who is not a permanent resident of the state of Jammu and Kashmir. (Emphasis Supplied)
Reference is accordingly answered.
The major question is:
1. Is the judgement prospective?
Answer: In my understanding (and I am no law expert), it can't be prospective because there were people who had gone to the court and got this relief.
They can't be told that the judgement applies to cases henceforth and not for you. Forget whatever happened to you.
If those who went to the court did not get the relief - then what is the purpose of their approaching the court?
By its very nature, the judgement is of 'principle' and not to be applied ONLY in future.
Hence, it is not PROSPECTIVE as being claimed, but RETROSPECTIVE.
2: Even if a position is taken that the judgement is prospective, the court has given a direction as to how this kind of situation should be dealt with.
There is no need of a committee, one can go by the court's verdict and apply the principle
3. Third, there is no reference to 'male' or 'female' in the law related to PRC.
The questions raised in III and IV have to be answered in view of the Domicile & Matrimonial Proceedings Act, 1973, as DECIDED by the court.
This is the link to the British law REFERRED TO IN JUDGMENT BASED ON WHICH THE COURT HAS GIVEN ITS VERDICT.
http://legislation.data.gov.uk/ukpga/1973/45/body/enacted/data.htm?wrap=true
Not by following the precedents of law which were there in Domicile & Matrimonial Proceedings Act, 1914, as was being presumed and attempt was made to lead the court to accept.
What was being pleaded by the Advocate General and some other counsel was a law of 1914.
The court took the EVOLUTION OF THAT LAW and its shape 60 years later, as it was in 1973. Since then, the law has evolved even more, in favour of the women.
Some MAJOR ENABLING CHANGES were made as early as 2013.
Thanks.