China's clampdown on Uighur Muslims: Double faced Dragon denies mistreatment! Officially accepts Muslim Extremism in Pakistan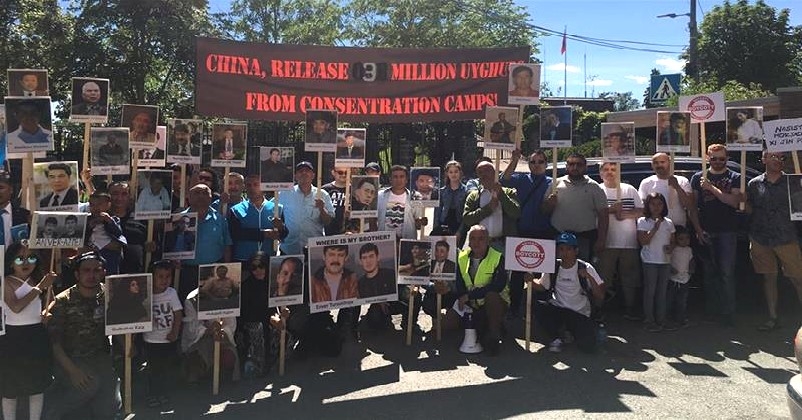 Pic Courtesy- AJ
After a trove of leaked government documents revealed that around one million Uighurs and members of other Muslim minority groups are being subjected to torture and exploitation everyday under President Xi Jinping, Beijing denied any mistreatment of the Uighurs or others in Xinjiang, as per the latest update.
The state run Global Times newspaper on Monday defended measures and said that the US newspaper's report lacks morality and even accused some in the West of being eager to see Xinjiang engulfed in extreme violence and chaos.
Earlier on Sunday, China's Foreign Ministry did not immediately respond to a faxed request for comment from Reuters. Later defending itself on leaked details, it said it's providing vocational training to teach new skills and to help stamp out Islamic hard-line groups and separatism.
"Giving a big statement on the matter and supporting China's de-radicalization drive, Editor in chief of Global Times, Hu Xijin tweeted that though he isn't sure of the leaked documents' details but is a witness of the strengthened position of the state. He believes China's Xinjiang is far better than Pakistan in terms of peace and prosperity."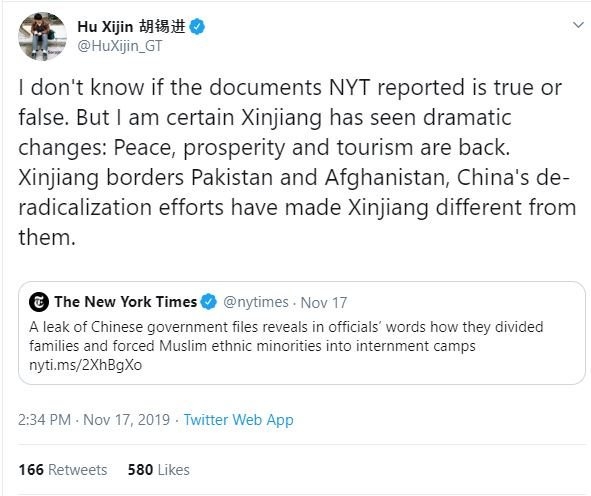 The documents totaling 403 pages, which the newspaper on Saturday said were leaked by a senior Chinese official claimed that after a visit to Xinjiang province in 2014 following a stabbing attack by Uighurs at a train station that killed 31 people, President Jinping gave a series of internal speeches to officials. Calling for an all-out struggle against terrorism, infiltration, and separatism he instructed to show absolutely no mercy.
Beijing is well aware of the criticism it might face for such a conduct. And the leaked confidential documents show how the minority groups have been detained in camps in Xinjiang province in a crackdown that has drawn condemnation from United States and other countries.
The documents disclose China's double standards in the fight against terrorism as well. On one hand China continues to obstruct India's matter of declaring Masood Azhar the most wanted global terrorist. On the other hand, the documents show that the Chinese leadership's fears were heightened by terrorist attacks in other countries.