Jammu and Kashmir has always been the land of saints, scholars and poets.FromLalDed to Swami LakshmanJoo, it has seen many mystics and religious movements.During 9th century, with the growth of Kashmiri Shaivism, it became land of joy and serenity.Legendary artists like Tibet Baqal,Bhajan Sopori and Vijay Mallaetc have shown us what real Kashmir and Kashmiriyatis. Islamic rulers invaded and ruled Kashmir from 13th to 15thcentury and led to the gradual decline of the Shaivism in Kashmir.Rich in cultural and religious heritage, the UT has many spots which are ancient but due to some causes like Islamic terrorism and other anti-national forces, either they are now damaged or forgotten by the people.Some are properly maintained while some have become like ruins.But their heritage is intact even today.Following are some lesser known but historical as well as religious sites of the new UT -: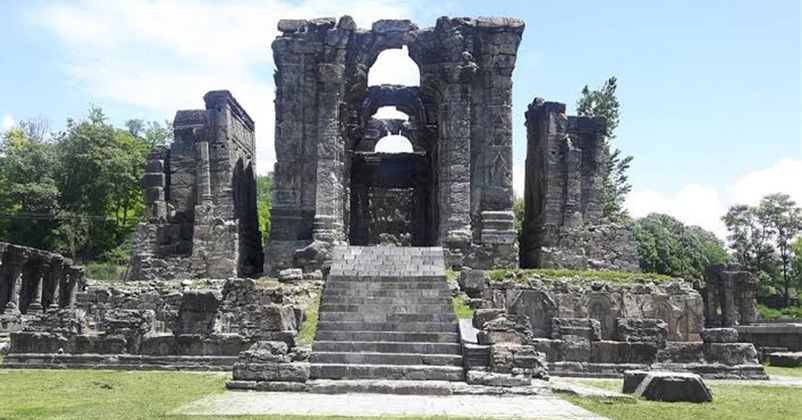 1. Martand Sun temple- Dedicated to Surya(the sun god), this temple located 4km away from Anantnag.Also known as the MartandeshwarMandir it is the only Sun temple in North India.It was built in the 8th century CE by King Lalitaditya.It is really an excellent example of Kashmiri architecture, which also has impact of other styles of architecture in it. The Archaeological Survey of India has declared the Temple as a site of national importance.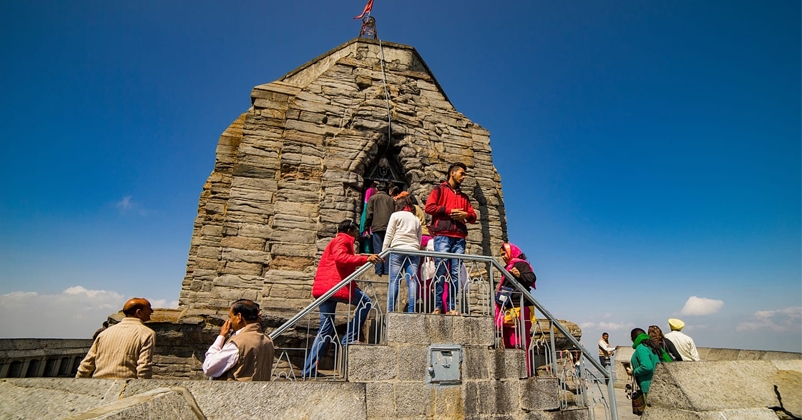 2. Shankaracharya temple- Located on the top of Shankaracharya hill in Srinagar, this holy place dates to 200 BC.Also known as Jyeshteshwara Temple, it is dedicated to God Shiva.It was visited by Adi Shankaracharya and has ever since been associated with him, this is how the temple got the name Shankaracharya. It is also regarded as holy by Buddhists.It is believed that The temple was originally built by the Hindu king "Sandiman"
3. Sharikatemple(Hari Parbat)- Although the hill has its own history, the temple of Mata Sharika, also considered as a SidhhaPeeth is very ancient and associates with Kashmiri culture and legend.Another name for the hill is PradyumnaPeeth.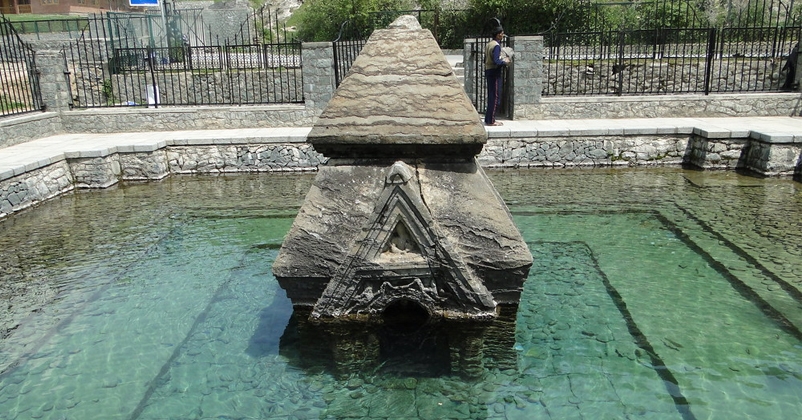 4. Manasbal Shiv temple- Partially submerged in the Manasbal lake, the temple is built of stones with a tall Shivling inside it.It is undoubtedly ancient but not much is known about its antiquity.It is around 15km from KheerBhawanitemple, Tulmulla.Dated to 800-900 AD, it has a unique pyramid-shaped roof top with floral motifs. It is a new pilgrimage attraction for pilgrims who visit the Amarnath and the KheerBhawani temple.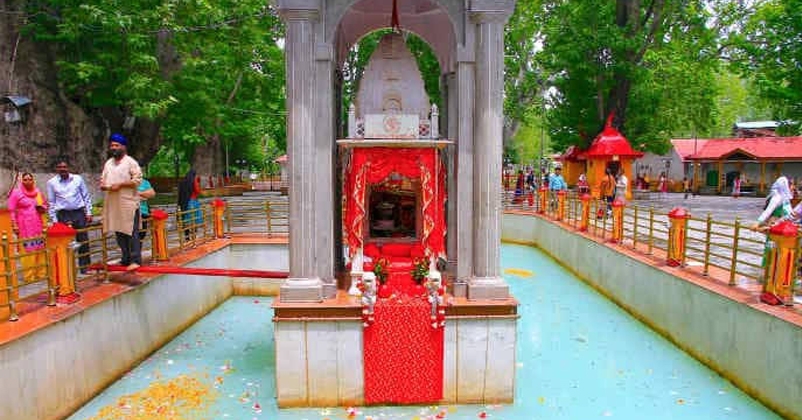 5. Kheer Bhawani(Tulmulla)- Located at Tulmulla village,5km from Ganderbal this ancient temple is dedicated to Mata Ragya, an incarnation of goddess Durga.The temple is also known for its sacred spring which changes its colour.Abu'l-Fazl in his book Aini-Akbari mentions the area of Tula Mula extending over a region of hundred bighas (unit of land area) of land, which used to sink in the marshy lands during the summer season.SwamiVivekanand also visited the temple.
6. Parihaspore temple
- The temple was destroyed by SikandarButshikan but the ruins of the temple are still there near Trahat village on the wudar The site is maintained by the Archaeological Survey of India.The area was chosen for establishment of new capital by King Lalitaditya( c .A.D.750).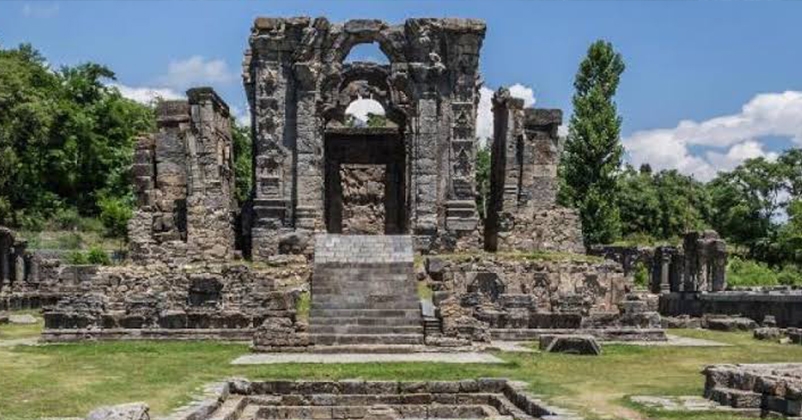 7. Sharda temple (PoJK)- It is the only ancient temple dedicated to Goddess Sharda in the entire sub continent and is also one of the 18 Maha Shakti Peethas.It is located in Pakistan occupied Jammu and Kashmir.The origins of it are uncertain.It was one of the foremost temple universities of the Indian subcontinent in, hosting scholars such as Kalhana and AdiShankaraetc.Kashmir was sometimes called SharadaDesh because of its influence as a centre of learning.It is believed that Devi Sati's right hand was fallen here.Built of a local red sandstone, constructed in a classical Kashmiri style of temple architecture, it sits on a hill and is approached via a stone stairway to the remains of a stone wall and ruined gateway.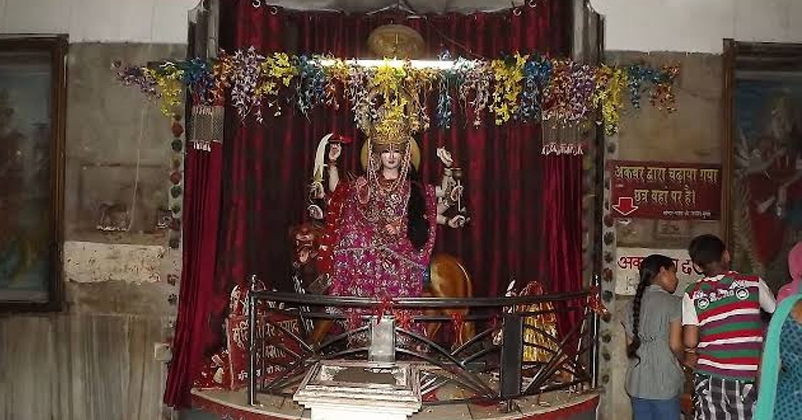 8. Jwala Bhagwati temple- Dedicated to the Goddess of fire, it is situated on the top of a hillock at Khrew, district Pulwama.RajaDayaKrishenKoul is believed to have built it in its present form in 20th century.It is said that Jwalaji manifested herself as a Jyoti. This sacred rock in the temple has naturally carved mystical lines forming a design which resembles Sri Chakra. It is believed that the rock has turned black due to the flames which sparked from time to time.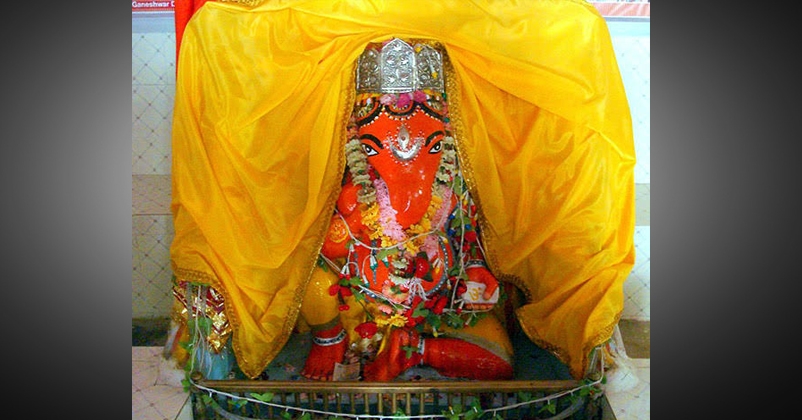 9. Ganesh temple (Ganpatyar)- Located on the right bank of Jhelum at HabbaKadal,this temple is dedicated to Lord Ganesha.The shrine is believed to be of ancient origin and also mentioned in diaries of some famous Chinese travellers.It is 2km from LalChowk.
10. Kapalmochan Temple- Situated on the banks of the Ranibiara rivulet near Shopian, this place is visited by devotees specially for Shraadhs.Legend says that a Shiv Linga sprouted on this place following an incident.
11. Khanbaran shrine- Located at Devsar,inKulgam district it is one of the most sacred places.It is a shrine of Mata Tripura Sundari.The place is said to be the main gate of a sacred place.It is a mystical as well as ancient shrine.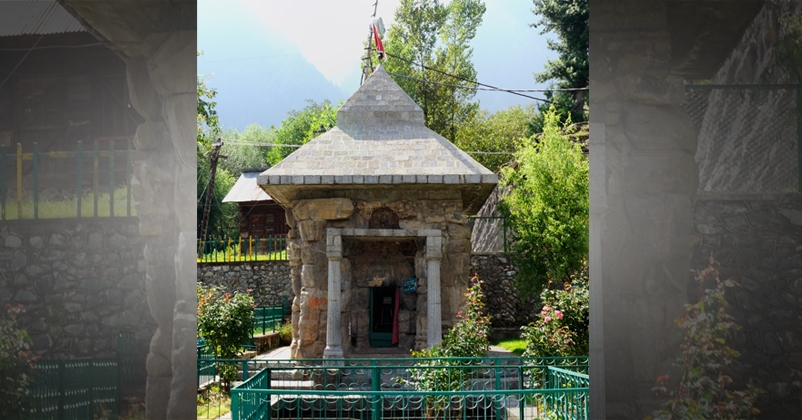 12. Mamaleshwar temple, Pahalgam- An ancient temple located in Mamalvillage,a mile from Pahalgam.It is a stone temple dating back to 8th century, dedicated to Lord Shiva.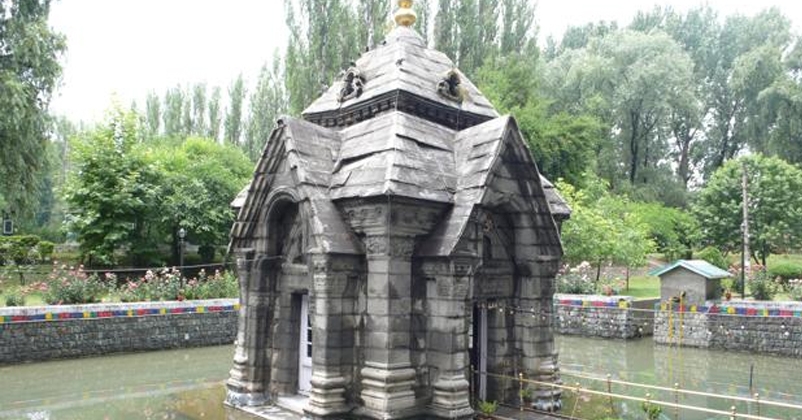 13. Pandrethan temple- Built by Meruvardhan and dedicated to Lord Vishnu,it is located in Badamibagh cantonment area.It finds a mention in AmarnathMahatamya and is a seat of pilgrimage of ancient times.It is locally known as 'PaaniMandir' and is about 5 km from Srinagar city. This ancient temple was said to be built around 921 AD and is a great example of Kashmiri temple architecture.The temple is surrounded by a pond and is known for its geometry and symmetry used for construction.
14. Vigrah temple- It is a Lord Hanuman temple located near AmiraKadal bridge, Srinagar.This type of Lord Hanuman is rare to see in other Hanuman temples of India.It was built in 1936vikrami by PanditDiwanAnant Ram.
15. Devibal, Baramulla- Located on the left bank of Vitasta on the National Highway, the shrine is very ancient and at least a thousand year old.Biggest gathering of devotees takes place on Ram navami every year.It is dedicated to Mata Shealputri.
16. LokBhawan- This ancient shrine was known by the name of LokPunya, named after King Lalitadatia.The place also plays major role in the Kashmiri festival of – 'Har Bah'
17. Avantiswami temple-Situated in Anantnag overlooking Jhelum, the shrine is devoted to Lord Vishnu.The foundation was laid by Avantivarman of Utpaladynasty.It was attempted to be destroyed and government has carried out restoration work.It is maintained by Archeological Survey of India.Another temple was built near it but it was destroyed over the period of time.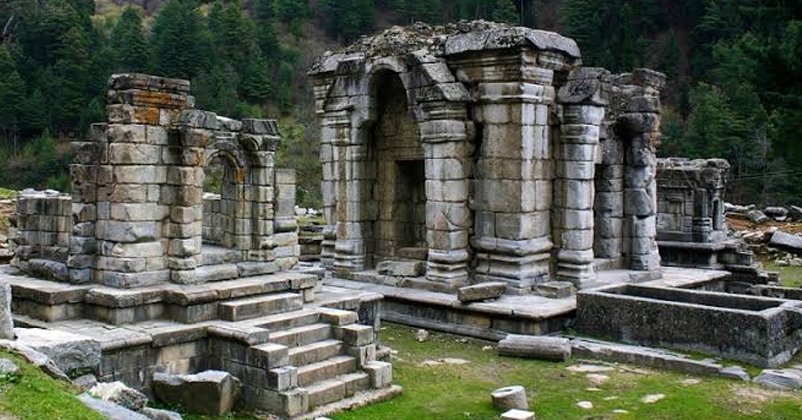 18. Naranag temple- One of the most important archaeological sites of the country, it is a group of temples situated on HarmukhMountain.It dates back to 8th century and is a Shiva temple.
19. Payar temple- Dated 11th century CE, it is located 12km west of Avantipura in Payarvillage.It is made up of ten stones that are well preserved.
20. Katyaynitemple, Kakran- The ancient temple of Mata Katyayni is located in village Kakran,districtKulgam.It is an important shrine of Kashmiri Hindus.
Apart from these, there are many other sacred places which are lesser-known to people.


(Writer Chiranjeevi Karnail is under-graduate student in Delhi)