NDTV, WIRE, HT, The HINDU, INDIAN EXPRESS- You sold Media - They are not killed, They are Martyred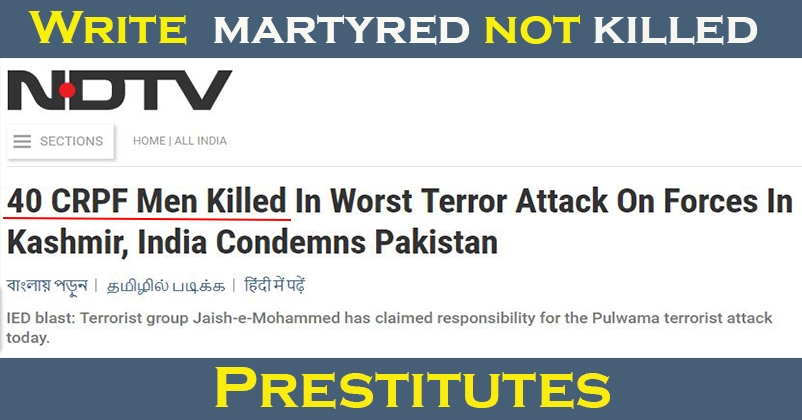 How many lies will you throw on our face!!!
Every word has a meaning, every meaning has an expression and every expression has a purpose. The word Martyr also has a meaning, a specific meaning, a very honourable meaning. Time and again our soldiers have made the ultimate sacrifices for this country and her people, and it is due to their heroic martyrdom, that today we have an integrated sovereign nation. However, some media houses have taken a pledge to make a mockery of the sacrifice of our soldiers, by calling it mere killing!!!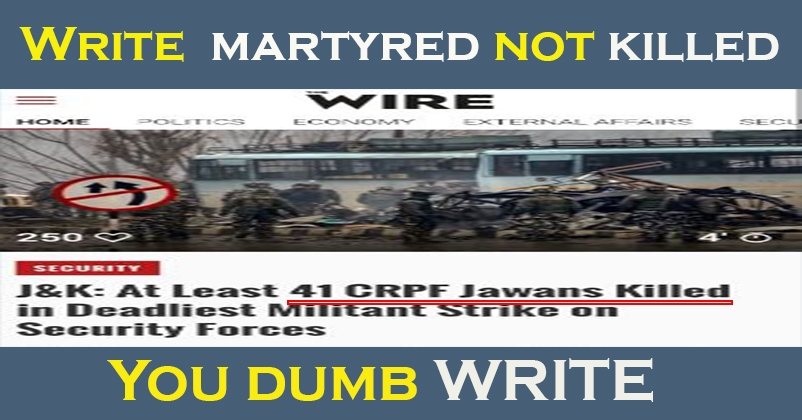 The entire nation today is in a state of shock. So far 44 CRPF Jawans have been martyred in one of the deadliest terrorist attacks on the convoy of CRPF in Pulwama, Kashmir. A car loaded with about 200 kg RDX, rammed it elf into the bus carrying the CRPF Jawans in a Fidayeen attack by the terrorists. But the media houses like The Wire, NDTV, Indian Express, Hindustan Times, The Hindu chose to use the term "Killed" rather than Martyred!!! This is the ultimate sacrifice the soldiers have made. They were targeted by the terrorists because they were soldiers. They did not get killed in some freak accident, this was an ambush, a strategically planned terror attack. The shamelessness and indifference of the media does not end by calling their sacrifice a mere killing, many of them refrain from even calling it an attack by the terrorists!!
The NDTV headline is "40 CRPF Men killed in Blast in Kashmir's Pulwama, worst attack in decades", it has refrained from using very crucial and correct terms like, Soldiers/Jawans, instead the term used is CRPF Men, the term attack is not used in the first part, instead Blast is used, as if it was a gas cylinder blast, and then though the word attack is used but the term Terror is not used at all. So, who attacked? Were these some boys on the road side attacking each other?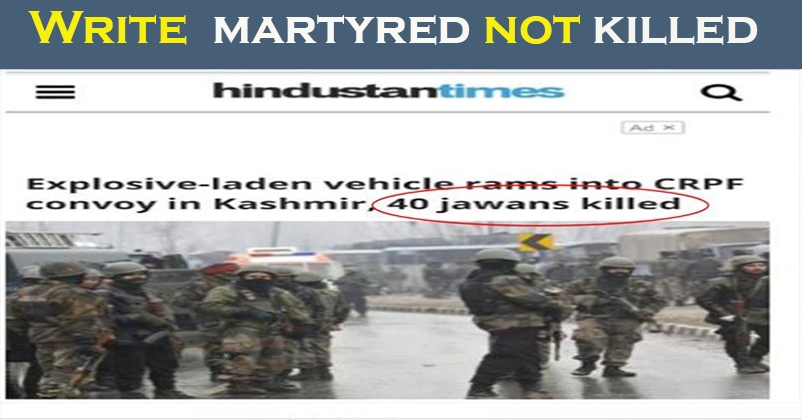 Hindustan Times went one step further in making this ghastly act of terror more casual by writing, "Explosive laden vehicle rams into CRPF convoy in Kashmir, 40 Jawans killed" so the newspaper did not even think it necessary to use the word Attack, instead it used the term 'Rams in to', as if it was some road accident killing 40 jawans. No use of words like Terror, terrorists at all!
The Hindu wrote, "At least 40 CRPF jawans killed in IED blast in Kashmir's Pulwama" again it is mere death due to some random blast, no mention of the martyrdom of our jawans, no mention of a planned attack and certainly no use of Terror or Terrorists!!
The headline of The Wire reads, "At least 42 CRPF Jawans killed in deadliest Militant strike on security forces". So although it is an attack, but not by Terrorists but by militants. If this is not terror attack then what is terror attack? And again, the jawans just got killed and not martyred.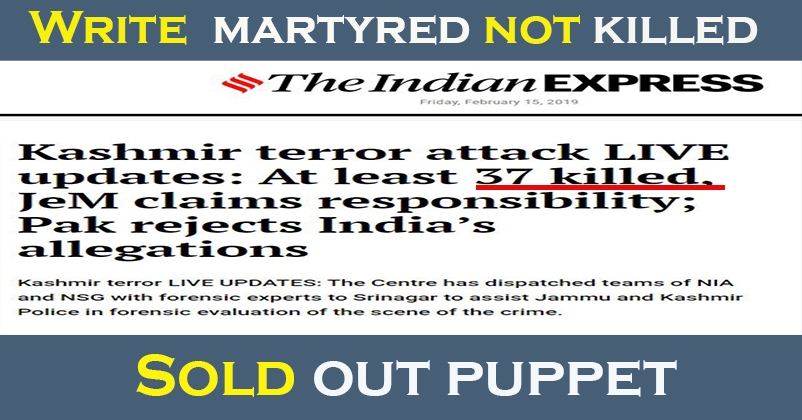 This is how the traitors in the form of these media houses are diluting the seriousness of the terror attack and also undermining the sacrifice of our soldiers. Traitors like these media houses, which misguide our youth, encourage the terrorists and strengthen their terror festered ideology. They are the real culprits, they are the real threat to the integrity, peace and sovereignty of India. It is the dirty mind of these selfish, inhuman and unreliable media houses, which is very worried about the human rights of Burhaan Vani and the likes, but they have no shame when they play with terms and convert the sacrifice of the Jawans into killings. This is not freedom of press but it is abuse of the freedom, this is not use of democracy rather it is a threat to democracy, this is not fair reporting, but this is biased reporting filled with the venom of anti India sentiments. Such media houses should be boycotted by the people of India. Tolerance is fine, but if we tolerate such liars and traitors then we are jeopardizing the very future of our country.