Left-leaning news portal News Laundry mocked Major General G. D. Bakshi for his alleged Hyper behavior during TV interviews and debates. It is unfortunate that while opposing Modi and supporting Pakistan, the leftists' lobby has crossed all the limits and it has now started humiliating the Indian Army and the decorated Generals of Indian Army!
Commenting on mocking of the Major General by the News Laundry, Swara Bhaskar has tweeted that Major Gen. G.D. Bakshi is National Embarrassment because he gets hyper during TV debates!!!!
Let's find out who is this National Embarrassment Swara is talking about:
General with a martyred Brother
General G. D. Bakshi's brother, Capt Raman Bakshi was the first martyr in the war against Pakistan in 1965, he was just 23 years old.
A war veteran and decorated Army General:
General Bakshi has fought two wars for the country, one in 1971 and other 1999. India defeated Pakistan in both the wars. The general, declared a National Embarrassment by Swara, is a decorated retired Army General, who has glorious tenure to his credit and has been awarded the Seva Medal (SM) and VishishtSewa Medal (SVM) and served two terms as the Director General of Military Operations- DGMO.
A terror for terrorists:
Kishtwar in J & K is a very difficult hilly terrain and is a terror festered area. It was due to his performance that the terrorist activities reduced multifold in Kishtwar. People like Swara cannot even enter these areas, where Gen Bakshi fought on the ground against hardened terrorists. He has also written a book "Kishtwar Cauldron: Pakistan's Proxy war and CT operations in Kishtwar", describing the role of Pakistan in supporting terrorism in J & K.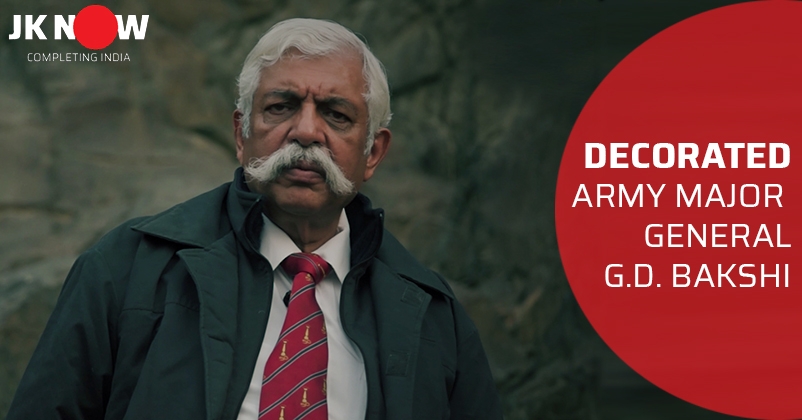 A daring true Patriot:
An army man who has faced the enemy bullets, not once but in two wars, who has lost his brother while fighting against Pakistan, who has seen his jawans dying while protecting India from Pakistan attacks, who has lost his soldiers to terror attacks while serving in J & K, is not allowed to express his anger, and if he gets angry on-screen, he is called a National Embarrassment!! And you know what, the man at whom Gen Bakshi was shouting and getting "HYPER" was a Pakistani!! So, if shouting at a Pakistani is National Embarrassment, then I wonder whether Swara even understands the meaning of NATIONAL.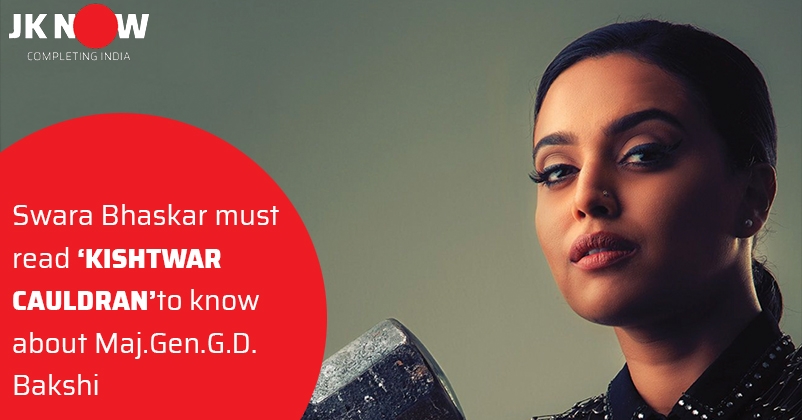 An ungrateful Swara:
The comment of Swara becomes more objectionable because of Swara's father Capt. Uday Bhaskar is also former Defense personnel! It means the nation's money has been spent for her upbringing, her education, her comforts and this is what ungrateful Swara has got to give us in return.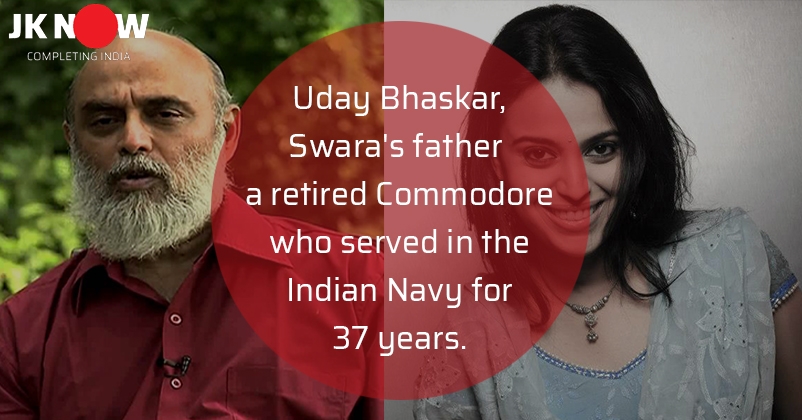 Swara is taking undue advantage of freedom:
This is not the first time that Swara has used objectionable words against a nation's pride. On earlier occasions also she openly supported anti-national acts and uploaded objectionable posts on social media platforms and wrote comments against the unity and integrity of India. This time she stooped down to the lowest level and used demeaning language against a decorated (retired) army General, just to gain cheap publicity. Major General GD Bakshi (retired) is the nation's pride whereas Swara a wannabe Bollywood actress, who has been consistently courting controversy to get fame. The only thing can be said in this matter is that it is India, which gives her so much freedom but people like her take undue advantage of this freedom to gain cheap publicity. Let her go to Pakistan and dare to use such filthy language even against any of their soldier perhaps then only she would realize the difference.Swara must learn to respect army men instead of doing cheap things to gain publicity. It is because of army men like him, Swara and any another India can sleep peacefully in their homes.