Bads of SR0-202 made known, Mr. Murmu would have hardly taken a few minutes for saying no to it,With SRO-202 Going Out Blessing of nearly 80% new government employees are Coming In for LG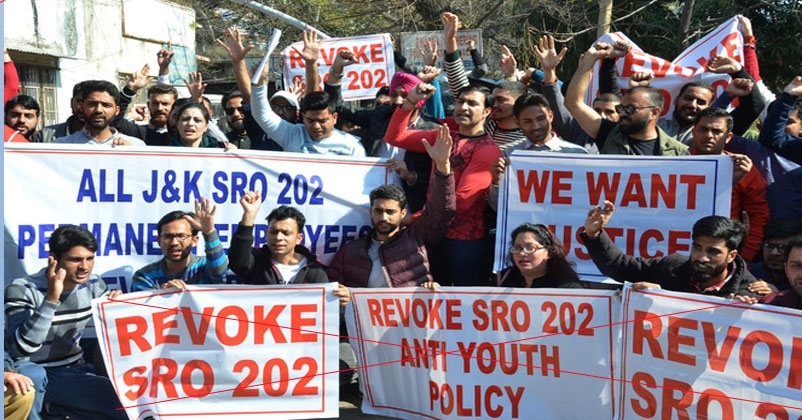 Mr Rohit Kansal Principal Secretary Power and Information Department J&K on 15062020
[email protected]
<"Administrative Council chaired by LG Sh. G C Murmu takes historic decision. No fresh appointments under SRO202. Probation period of old appointees reduced from 5 to 2 years. Massive step toward employee welfare.">. It was surely like an official press release from the Government of UT of J&K and appeared a step taken by the Lt. Governor Mr. G.C. Murmu to assure the common man that with real facts and needs placed before the superior chair in power corridors the fair decision can surely emerge. No doubt the details of the decisions taken by the Administrative Council of the UT of J&K have yet to be known but going by the tweet it is expected that the modified rules when made public for posts other than Class IV would surely invite no more questions and those appointed earlier / to be appointed new would be getting all the benefits of annual increments and other allowances that are normally due to employees appointed with probation period of 2 years against regular posts and similarly S.O 184 of 04-06-2020 for new Class-IV employees too will be suitably amended by removing SRO-202 Rules like 9,10 and ofcourse Rule-8 too, ofcourse those appointed earlier with SRO-202 now gone too would get all benefits as are due during 2 yr probation like others.
If appointed under SRO 202 a medical officer would have been getting in the 5th year of service only Rs.47900 /pm as against amount of some where equal to Rs. **95160/pm plus** entitlement for CEA @Rs.2250/pm/child for 2 children +
[email protected]
Rs.6750/pm/child for 2 children .
With what Mr. Murmu has initiated on 15th June 2020 nearly 5 years after the birth of SRO-202 is going to buy for him blessing of the families of nearly 80% of new government employees who would have become victim of SRO-202 after 2015 ( particularly that of Rule- 9, Rule-10 and Rule-8 ) after employment against regular substantive posts for conduct of bonafide need based functions of State/ UT ( see Rule -11- 2 : The period spent on probation/ consolidated salary shall also reckon for purposes of calculating the qualifying service of these appointees for pensionary and other benefits provided under rules; proviso to Rule-8 "Provided that any person appointed against any available vacancy on the basis of being a resident of backward area or an area adjoining Line of Actual Control shall serve in such areas for a period of not less than seven years.")
Any rational person blessed with unbiased wisdom would surely suggest that the recruitment rules under SRO-202 for posts other than Class -IV employees, more particularly Rule-8(1. probation for a period of five years ….) ,Rule-9 (1.During the period of first five years, the appointee shall be entitled to the minimum of scale of pay along with the grade pay ) and Rule -10 ( 1.e persons appointed shall be entitled to annual increments, Dearness Allowance, House Rent Allowance and City Compensatory Allowance after successful completion of their five years' service on consolidated salary ) must be modified/deleted.
One may observe with pain and regrets that may be delay was only due to otherwise intentions & bureaucratic channels and lack of participation of social /non political groups for placing in proper way before Lt Governor Mr. Girish Chander Murmu even financial damages and socio- economic depression that SRO-202 related policy rules could inflict on the unemployed & under employed youth.
And going by the tweet that Mr. Rohit Kansal made on 15th June evening any mind with fair wisdom could so easily infer that Mr. Murmu possibly would have hardly taken a few moments in time to say no to SRO-202 and its derivatives when the real position would have been placed before him , may be, by Sh. B.V.R Subrahmanayam Chief Secretary who heads a high power committee on SRO-202 constituted vide order No.293-JK(GAD) of 2020 Dated 27.02.2020 with FC Finance, Secretary GAD and Secretary Law & Parliamentary Affairs as members. It will not be out of place to mention here that the earlier New Recruitment Policy Order No.257-F of 2011 dated 27-10-2011 was also based on recommendations of a committee of Senior Officers constituted vide G. O. No.319- GAD of 2011 dated 10-03-2011 adopted under Cabinet Decision 193/23/2011 Dated 19.10.2011 and was later revoked by Omar Abdullah lead NC- Congress Government admitting that 'he' was not knowing it was so unfair & detrimental to the bonafide interests of the youth. What ever his opponents may say, surely Omar Abdullah realising mistake too was welcome.
How bad have been the employment opportunities in the erstwhile State of J&K / how bad are the opportunities even in UT of J&K could be seen from the fact that inspite of so poor/ bad and unfair offered terms of employment contained in SRO-202 of 30-06-2015 still the Government of the UT of J&K expected that may be tens of thousands of applicants including post graduates / Ph.D degree holders may apply for a few hundred jobs.
Those in power corridors have/had such expectations not only for Class IV jobs or school teacher jobs but also for the positions of Medical Officers ( MBBS / MD/MS may apply ).On one hand so often Union Health Minister/ Health Ministers of States say that in India we are short of doctors and on the other hand same Ministers / Leaders expect that they will have many candidates there applying for post of medical officer even with so disgraceful / depressing terms of employment ( Government of UT of J&K had again planned to invite applications for appointment of ( 900 +50) Medical Officers with terms of wages / probation as per SRO 202 in terms of HME/HRM/162/2018 dated 10-06-2020 from H&ME Department for 900 posts addressed to J&K PSC and HME/HRM/54/2013 of 27-09-2018 for 1000 posts out of which 50 were to be re-advertised.
(
Daya Sagar Patron JKSC : Sr Journalist & known analyst of J&K affairs

[email protected]
9419796096)