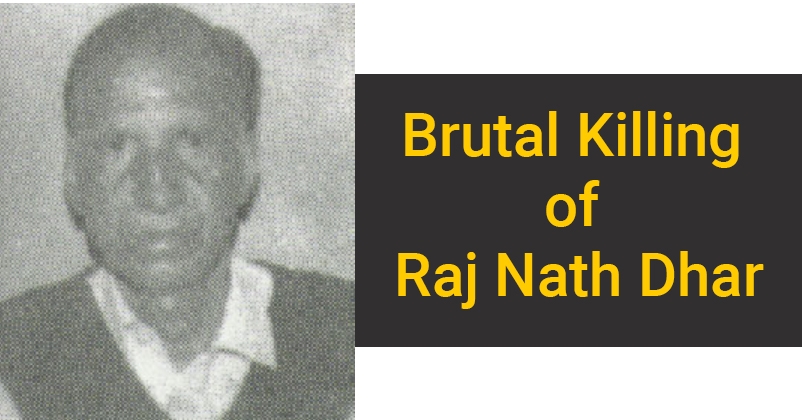 By June 1990, the Jammu Kashmir Liberation Front and other Pakistan-backed terrorist organizations had started trying to run a parallel government in Srinagar. Hundreds of Kashmiri Hindus were murdered but the police and administration completely failed to stop it. Due to a conspiracy of Farooq Abdullah, the then Governor Jagmohan was removed by the Central Government on 26 May 1990 and Girish Chandra Saxena, the then RAW Chief was appointed as the Governor of J&K. The terrorists were threatening Hindus to leave the valley by pasting hate posters outside the homes of Kashmiri Hindus and were placing threat advertisements in newspapers.
A fearless Kashmiri Pandit and a retired government officer, 59 years old Raj Nath Dhar, son of Dina Nath Dhar who lived in Alikadal area of Srinagar, was amongst those Kashmiri Hindus who were first threatened to leave the valley and then killed during that period. Raj Nath Dhar was shot at by the Islamic terrorists on 30th June 1990, he had died due to lack of medical aid and attention.
The fateful night of 30th June 1990 when Raj Nath Dhar was brutally killed by Islamic terrorist at his home
The terrorists had set their eyes on his property, but Raj Nath Dhar who lived with his elderly mother, a 40-year-old younger brother and a 32-year-old sister, refused to be intimidated by the terrorists or leave their homeland. The terrorists continued to threaten.
On the fateful night, Raj Nath was alone at home with his mother, when a number of terrorists entered his house. While his elderly, ailing mother pleaded before the terrorists, they paid no heed and shot multiple bullets at Raj Nath. His mother cried for help, begged for her son's life even before the neighbors to take him to the hospital but no one came forward fearing terrorists. When he was somehow taken to the hospital in late hours, Raj Nath took his last breath and could not be saved precisely due to a lack of timely treatment.
The police, although, registered a case against the killers but the terrorists were never punished or even caught. After this incident, the panic as well as fear deepened among Hindus across the valley. Soon after, the Hindus began to leave their homes and ancestral properties in Srinagar overnight, with Islamic terrorists occupying their lands and looting their assets.