July 19, 1999 – When 15 innocent lives were taken away in Doda by Islamic terrorists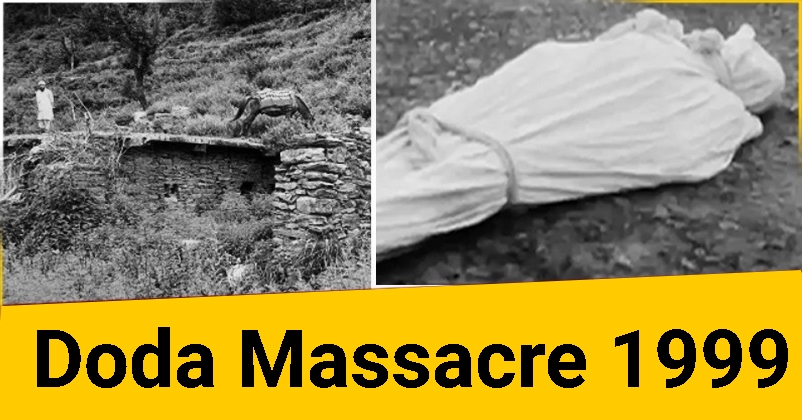 The terrorism in Kashmir Valley started earlier and spread gradually to most parts of the erstwhile state. It hit the Doda sub-region in the early 1990s when spread its roots in other regions also targeting Hindus and their properties. Alongside, political developments in the valley too had bearing on Doda district's Muslim populace, as in words of a defence officer from his years-long service in the area, "the proximity of the region to the Kashmir Valley had a huge impact on the growth of militancy in Doda district. Pir Panjal ranges which isolate Doda from Valley could be easily crossed by terrorists during summers." In the early phase, the terrorists when under pressure in the valley came into Doda for rest and respite, during this phase they also motivated the susceptible locals, picked up young recruits and built their bases for future operations.
Terrorists, in search of their targets built-up bunkers and hideouts in the high snow-clad mountains, which put them in an advantageous position, thus making it difficult for the security forces to launch any kind of offensive. Many of them who operated in Doda sub-region were from Afghanistan and Pakistan. Also, rough terrains and inaccessible areas of Doda made it a safe sanctuary for terrorists who carved out training camps and hideouts in the dense forests and inaccessible rural areas of the region to infiltrate uninterrupted.
July 19, 1999
It was on this day that fifteen innocent people of Doda district were mercilessly killed by Islamic terrorists that also included eight women. Among the dead were five members of the village defence committee, an independent body that is set up to protect remote villages from such heinous attacks. In the gruesome attack that took as many as fifteen lives that day, another six people were wounded, while four of them were seriously injured.
In another similar incident in the Poonch district, four construction workers were killed in an attack by terrorists on their camp. On that day, over forty people lost their lives in similar merciless terrorist attacks.