Even Naming Srinagar Air port after PVC Major S.N. Sharma would be too dwarf a tribute before what he did to save "Kashmir"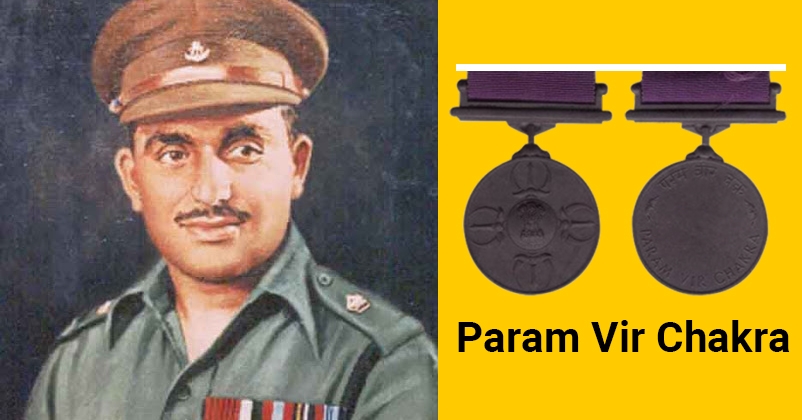 It has remained a routine practice since the known times over centuries that monuments / historical structure/ institutions / and the like are named after the known saints / scholars/gurus/ rulers / warriors of the times memorial. No doubt it is also an undebatable fact that instances can be quoted where even some historians have modelled their recordings to suit the rulers of their times but with change of guards serious fault finding have been attempted by some who follow in the earlier notes held before in high esteems. In the recent years also it has been observed that, particularly in the democratic set ups , at occasions with the change of governments recasting / re-narration of the stories and opinions / acts of sacrifice / acts of valour officially set earlier is initiated / is done. Mostly it happens so in reference to political ideologues and icons. To quote the 1857 Swatantrata Sangram is recognized as the first war of Independence of Indians against the British Empire where in on the one hand Martyrs like Rani Lakshmi Bhai are even worshiped by common Indian and on the other hand there were some rulers of other Princely states who what to talk of simply not supporting the greats like Rani Lakshmi Bhai against the British even extended direct men and material support to the British in 1857. No doubt it is not worthwhile discussing the rulers/ monarchs for their private interests/ public interests during British rule in India since that time is gone now and in case some ruler had kept his/ her personal interests over the 'national' interests that could happen in a monarchy and where some monarch was also some generous there is nothing bad in appreciating him/ her what holding them to ultimate esteems may not be wise since some may attempt to push in some debatable quotes of their times.
Similarly in a democratic set up where the governments change after a couple of years ( like every atleast 5 years in India of the day ) and where political racism can take the ultimate leads wisdom suggests that no building/ monument / public utility like railway station , airport, university, etc raised by government / out of public funds should be named after some political or community ideologue / leader since when the guards change the new leadership have been found raising 'unbearable' questions on the person of the leader in whose name the earlier government might have raised / established the structure / institution.
The message underlying the issue being made here must have reached the reasoning minds and hence need is not felt for naming some persons or creations or establishments. Similar should be the case with foundation stone laying of projects made at the cost of exchequer since so often the political masters when come in power raise very very serious questions on the integrity and person of some of those who have ruled earlier. An ex Minister or Bureaucrat may later get convicted and who will venture into removing the foundation stones 'bearing' the convict ?
So, why not make the political leadership work for coming up with a debarring legislation through Parliament ? Similarly as far as possible governments should also not name public institutions / structures in the name of saints /community gurus / community icons etc, let communities do so on their own.
No doubt , under very very exceptional cases we may name the monuments / structures / institutions / infrastructure like airports , railway stations after some personalities where there are remote possibilities of any otherwise opinions about their person , like it could be warrior Major Som Nath Sharma who had made exemplary extreme sacrifice on 3rd November 1947 to protect the Srinagar Airport as otherwise there was no possibility for saving whole of Kashmir Valley and Ladakh region from falling in the hands of Pakistani raiders like other areas of Indian state of J&K as were occupied by Pakistan in 1947-48.
Some where around 2004 different opinions / news has been shared in the media suggesting renaming the Srinagar Airport. Even in the J&K Legislature some quotes regarding that have been made like that it was on 9th Oct 2015 that the then Minister for Agriculture Production speaking on behalf of Chief Minister Mufti Mohammad Sayeed had said that the government was considering renaming the Srinagar airport to its original name ( Sheikh-ul-Alam Airport ) as per a 'resolution' which had not been done when it was inaugurated ( 14-02-2009 1st international fight of Air India to Dubai) by the then Prime Minister Manmohan Singh but the BJP MLCs proposed that the Airport should be named after 'Nund Rishi' ( Sheikh Noor-ud-Din 1377-1438 AD popularly known as Nund Rishi ). Srinagar media had been reporting in 2016 also that inspite of J&K Government working to re-christen/ 're-baptise' the Srinagar Airport as Sheikh-ul-Alam (RA) International Airport the Civil Aviation Ministry had yet to take any decision, rather even the process for renaming has not been initiated. So, in this regards also some questions and controversies could be raised and that need be avoided.
Rather the most appropriate name for the Srinagar International Airport in sight could be PVC Major Som Nath Sharma International Airport since but for the extreme sacrifice and braveheart contribution he had made on 3rd November 1947 Kashmir ( may be even Ladakh region) too would have been the part of the areas Pakistan had occupied illegitimately in 1947 which could be very clearly read from what Lt. Col.M. N. Khanna Comnd 4 Komaon Regt recommending martyr Maj Som Nath Sharma O.C. 'D' Coy . Unit-4 Kumaon for HONOURS and Awards had written " < But for this offr's bravery and sacrifice of his own life it is most probable that the SRINAGAR airfield would have been over run by the enemy and jeopardised this whole KASHMIR operations"> . And Major Som Nath Sharma was decorated with the 1st Param Vir Chakra of Independent India. PVC Major had defended the Srinagar Airport that stands today as Srinagar International Airport and it would be most appropriate to rename the Srinagar International Airport as "PVC Major Som Nath Sharma Srinagar International airport". Maj Som Nath Sharma, decorated with the 1st Param Vir Chakra ( PVC) of Independent India, was on .that "day" just 24 years of age & belonged to Kangra Distt now in Himachal Pradesh.
A few month after Indian independence, it was on 22nd Oct 1947 that Pakistan openly engineered attack on "Kashmir"( J&K) a princely State of the erstwhile British Indian Empire that had not by then acceded to India Dominion or Pakistan Dominion. At last The prince of Jammu & Kashmir had no option other than acceding to India , he signed and sent the Instrument of accession on 26th October 1947 to the then Governor General of India Dominion under the cover of a letter of even date there in mentioning the reasons for delay in taking decision on accession to either of the two dominions or other wise where in he had also said < My dear Lord Mountbatten I have to inform your Excellency that a grave emergency has arisen in my State and request immediate assistance of your Government. As your Excellency is aware the State of Jammu and Kashmir has not acceded to the Dominion of India or to Pakistan. Geographically my State is contiguous to both the Dominions. It has vital economical and cultural links with both of them. Besides my State has a common boundary with the Soviet Republic and China. In their external relations the Dominions of India and Pakistan cannot ignore this fact. I wanted to take time to decide to which Dominion I should accede, or whether it is not in the best interests of both the Dominions and my State to stand independent, of course with friendly and cordial relations with both……. …The wild forces thus let loose on the State are marching on with the aim of capturing Srinagar, …… as first step to over-running the whole State…… With the conditions obtaining at present in my State and the great emergency of the situation as it exists, I have no option but to ask for help from the Indian Dominion. Naturally they cannot send the help asked for by me without my State acceding to the Dominion of India. I have accordingly decided to do so and I attach the Instrument of Accession for acceptance by your Government. …"
Indian troops started landing at Srinagar airport in the morning of 27th Oct 1947. The 3rd Nov 1947 Battle of Badgam is 'legend' that is narrated by Indian defence forces with greatest of the great honours. The State forces of the erstwhile princely state were "totally" finished and very less Indian troops had by then reached Srinagar and only route of immediate access was air ( land route was too primitive and time consuming ). Maj Som Nath Sharma O.C. 'D' Coy . Unit-4 Kumaon who had arrived in Srinagar just a day before with his left hand already under plaster was to protect the Srinagar airport from the Pakistani raiders. Under sudden heavy enemy fire and short of troops Major Som Nath Sharma with his left hand in plaster often exposed himself to danger, took upon himself the task of filling the magazines for his men. With the LMG fire getting hindered by causalities he started filling LMG magazines himself. His last message to headquarters was "The enemy is 50 yards from us. We are heavily outnumbered. We are under devastating fire. I shall not withdraw an inch but will fight to the last man and the last round." Then a mortar shell landed right in the middle of the ammunition, resulting in an explosion that killed him. The incredibly courageous action by Sharma and his men prevented not only the fall of Srinagar Airport but of the whole Kashmir Valley inflicting extra heavy damage / causalities on the enemy and by delaying the enemy advance by nearly six hours. Maj Somnath's body was recovered after three days, beyond recognition and the brave heart was recognised by the few pages of the Bhagwad Gita in his pocket & his empty pistol holster. Major's story is of pride and courage who with distant connectivity & less than 100 troops in his command defended Srinagar ( Badgam) Airport making extreme sacrifice for country by holding back over 500-1000 'Pakistani raiders just "yards" away ( Badgam village ) from Srinagar with his "last drop of blood" enabling more troops to land in for securing the airport, Valley and beyond safe.
15th August could be appropriate date for dedication Srinagar Airport to PVC Major Som Nath Sharma.
(The Writer is
Patron of JKSC, Senior Journalist & Known Analyst of J&K Affairs)