Separatists hawk, Geelani had two weapons: Pakistan backed terrorists and Islam to retain his cult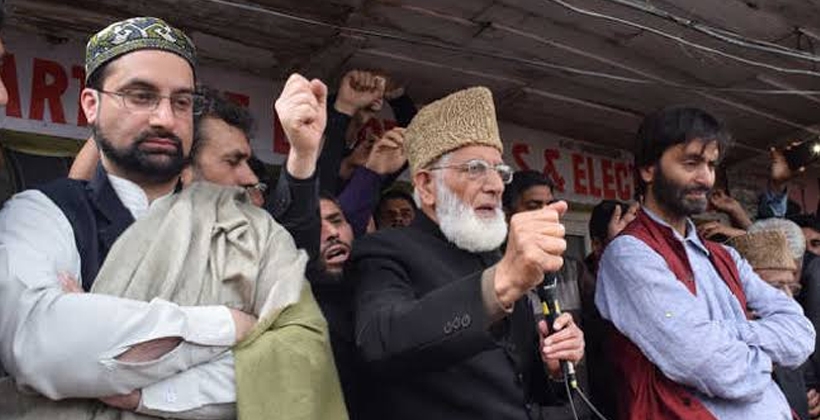 In 2008, when separatists in Kashmir stirred a massive anti India agitation following the attempts of land transfer to Shri Amarnathji Shrine Board, their calls for 'Azadi marchs' would pull out huge crowds. The agitation which was purely backed and sponsored by Pakistan witnessed street protests and march's including the one towards Srinagar-Muzaffarabad on August 11. Off late, when separatists witnessed huge crowds coming out of their homes on their calls, one of the march was called for Eidgah Chalo in Srinagar on August 21. When the separatists including Syed Ali Geelani stepped up to stage at Eidgah, he first asked people to take pledge and accept him as their leader. The separatist hawk didn't once, twice rather three times repeated the pledge and ensured people in unison repeated the words after him. This didn't go well with the other separatists who equally had put their efforts in pulling out crowds to the spot. Especially, Mirwaiz Umer Farooq who lives in the area was highly disappointed and his followers simply pulled out the loudspeakers and wires before Geelani could make any speech. Later, the Geelani led faction accused Indian spy agencies for causing technical glitches before the event was concluded unceremoniously. The people who were fooled and promised Azadi by the end of March only returned disappointed and accepted the bitter truth that separatism in Kashmir is engineered by a bunch of people for personal gains. But the flop shows at Eidgah made people realize that how Geelani is trying to grow his cult in Kashmir and riding over the dead bodies of Kashmiris for the same. Geelani later admitted that he committed mistake for asking people to take pledge but never thought to step down from the leadership. Ever since the Huriyat Conference in Kashmir was formed, Geelani managed to retain his hegemony. Neither he allowed any leader to grow under his shade nor did he ever diversify his powers in the organization. Today, when he stepped down, the party is facing immense leadership crisis. With his stubborn attitude and strict interpretation of Islam, Geelani polarized the young minds in valley and motivated them to march towards the violence. He even openly backed the decision of budding scholars like Mohammad Rafiq of Ganderbal, Manan Wani of Kupwara and Junaid Sehrai of Kupwara for their choice of becoming terrorists. But the reality back home is that when hundreds of people in Kashmir were on roads in 2010 agitation and lost jobs in the private sector due to economic slowdown he managed to blackmail the then Omar Abdullah government to call off protests in lieu of a lucrative job for his grandson in state government. His grandson without facing any interview is a research scientist while his own son is Associate professor at SKAUST.
Anyway, this is an old meal already cooked many times. My point here is to know the truth behind his resignation. Geelani, according to him resigned on the grounds of non compliance of his orders by the party men here and there in Pakistan occupied Jammu and Kashmir. He accused them of financial irregularities and off course setting the parallel group within the organization. Does it happen first time in Huriyat? No. Ever since the Huriyat Conference in 2002 was formed it had witnessed many factions and by 2020, more than dozen separatist groups are existing in Jammu and Kashmir. Mirwaiz Umeer Farooq split from his faction and formed the moderate Huiyat Conference. Prof. Abdul Gani Bhat left him and continued with his own Muslim Conference. He even accused him of killing his brother some forty years back after Bhat was emerging as a towering separatist personality in Kashmir for his better and holistic moderate political vision. Sajad Gani Lone who later accused his parent organization Jammat Islami for the killing of his father and moderate separatist leader Prof Abdul Gani Lone also parted his ways. His brother Bilal Gani Lone choose the same path and is heading his own separatist group. There are many more small factions that split with Geelani's Tehreek Huriyat and formed their own small groups to sustain and survive. Despite splitting the Huriyat Conference into pieces, Geelani never resigned. Either it did not stop here. In 2005 when Geelani was asked to transfer the property he amassed under the influence of Jamaat Islamia to the trust of his parent organization, he categorically refused. The Majlis Shoora, a decision making body of the Jamaat Islami decided to expel him from the top leadership and was reduced to a basic member. By that time, to ensure his property is secured and not auctioned or transferred to the trust Geelani had already managed to form his own faction of Huiryat Conference (G) and decided to part ways from Tehreek Huriyat. Though the Huriyat G was formed by Geelani with an active support of Mohammad Ashraf Sehrai, he managed to get latter elevated to the position of Chairman in Tehreek Huriyat while wielding his influence directly and threats ostensibly. So it makes clear that non compliance of orders, mismanagement, nepotism and seeking favors form the system was always an issues existing in the separatist camp.
Even in 2010, when Geelani was asked to explain his position over getting his grandson appointed in state administration, he preferred silence and accused Indian agencies of maligning his image. He resorted to same tactics in 2016 even when his granddaughter appeared in CBSE exams but asked for people not to send their wards schools. "Education can wait but not Azadi," he told people in Kashmir while spearheading the agitation for whole summer. While in Kashmir people were forced by him to adhere to his dictates and agitate against the Indian government, on the other side his party set hundreds of donations camps in Pakistan and collected millions of dollars besides gold and other assets in the name of Kashmir. Till this day no one tells what happened to those donations and where did they go and how many Kashmirs were provided the relief. Today, when his organization set a probe committee to know what happened to the money they have collected all these years, Geelani decided to step down and tried to uphold his morality.
Similarly, when India and Pakistan were talking on four point formula to resolve the Kashmir problem, the then president of Pakistan shunted him out. "Moulvi sahib please go and lead the prayers in some mosque. How many more killings you want in Kashmir," Musharaf had told him when he showed his stubbornness and stressed for only Islamic rule in Kashmir. The fact is even admitted by both Geelani in his autobiography "Wular ke kinaray and Musharaf in his book, "In the Line of Fire". But these embarrassments could never trigger the conscience of Geelani to step down.
Even in 2016, when his visionless agitation yielded no results but only children of Kashmir suffered and people suffered massive economic losses, the civil society debated and questioned the prolonged shutdown in Kashmir. Geelani called for the meeting of all separatists and civil society groups and those who asked him to redraw the strategy to ensure that people may not face economic losses; he brandished them as Indian agents and threatened of dire consequences. Rest all stayed back and preferred silence instead of making their observations.
Geelani failed as a leader to keep his flock together but is still one of the most influential separatist in Kashmir. How? He used Pakistan and terrorists for violence against all those who would dare to question his leadership. He would easily brandish them as Indian agents and deliver as fodder for the terrorists. To engage with the masses, the hawk even either misinterpreted or strictly interpreted the Islam. He projected India as an enemy of Islam and said anyone fighting against Islam will die as martyrs. It is a different reality; there is not a single martyr in his family. Geelani poisoned Kashmir and made its youth blind to judge between the truth and false. All his life he chose two options to retain his cult; Pakistan backed Terrorism and Islam.
Now, when the Indian government put stringent measures in place and plugged of all the hoels that would ensure the supply of money to fuel terrorism in Kashmir, Geelani got panic. One of his grandsons is already languishing in jail for his involvement in hawala transactions making huge fortunes. The probe is getting deeper day by day and more and more people are under the net. It won't be a surprise when NIA would corner Geelani and probe his involvement in terror funding cases. A staunch pro Pakistani earned all the benefits for his family from the Indian system. Personally he gained huge wealth and lives in a plush area of Srinagar. Meagerly surviving on pension which he gave up few years back following the public criticism can't be ensuring all this. Though he tries to secure whatever he achieved all these years in lieu of the dead bodies of Kashmiris but it is unlikely NIA may spare him and his family.