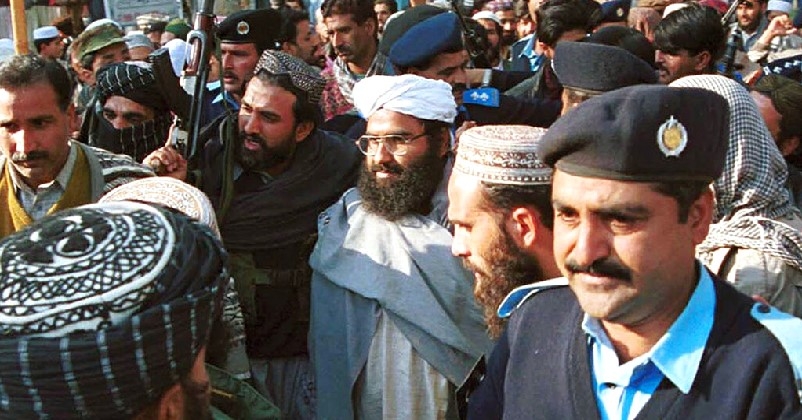 -Sant Kumar Sharma
Jammu, February 14:
Maulana Masood Azhar was in a jail in Jammu when an Indian aircraft was hijacked on December 24, 1999, after it took off from Kathmandu. The hijack drama ended a week later in Kandhar city of Afghanistan after Masood's release, along with four other terrorists. Masood then moved to Pakistan and founded Jaish e Mohammad (JeM), a terrorist group focussed on India, and one which started the trend of suicide bombings in our country.
For two decades now, Masood has been used by Pakistani security forces as an invaluable asset. Perhaps, JeM has transformed itself into the most potent terror proxy Pakistan has today in its quiver. Though it has proved its utility for the Pakistan state time and again, some day it is going to be it's undoing too.
It was two years ago on this day (February 14, 2019) that 40 bravehearts of CRP had laid down their lives in a suicide bombing by Jaish e Mohammad (JeM). Aadil Dar, a JeM terrorist, had detonated himself and the car he was driving ramming it into the CRP bus that the jawans were travelling in. A fortnight later, Balakot air strikes happened, followed by Pakistan Air Force attacking Nowshera in Rajouri.
The relationship between India and Pakistan has nosedived since then, with bare minimum contacts being maintained. Sealing of borders, escalation along Line of Control (LoC), statements against one another on various global forums, including at the UN General Assembly and Security Council, have become regular features. At the root of this extremely hostile attitude towards one another is a single JeM action.
What concrete action has Pakistan taken against JeM founder Maulana Masood Azhar since that fateful day? Or any of his associates and the countless madrasas he runs. No is a clear answer. Even then Pakistan hopes to wriggle out of Financial Action Task Force (FATF) greylist where it was placed in 2018.
How realistic are Pakistan's hopes when no action has been taken against JeM which had vitiated India-Pakistan relations repeatedly? Interestingly, the narrative the foreign office of Pakistan has been building revolves around the purported action it has taken against Lashkar e Toiba (LeT) founder Hafiz Saeed and others. Noises are being made about Saeed but not a word has been uttered about lack of action against JeM, a globally sanctioned terroriar organisation which Pakistan has been using as a terror proxy.
Incidentally, FATF had assessed Pakistan to have completed 21 of the 27 items under the current action plan. In the remaining six partially addressed issues, "significant progress has been made by Pakistan", Pakistan Foreign Office spokesman Zahid Hafeez Chaudhari claimed on Friday (February 12).
Action against sanctioned individuals is a very crucial yardstick used by the FATF to arrive at any decision. Incidentally, sanctioned individuals are persons declared to be terrorists by world bodies like United Nations Security Council (UNSC).
In an obvious sleight of hand aimed at hoodwinking FATF, Pakistan revised the list of terrorists it had put in public domain earlier.
No less than 4,000 individual terrorists just vanished with their records being removed! No records of action against any of them has been shared with anyone by the Pakistani authorities.
It needs to be mentioned that FATF plenary session would be held virtually from February 22 to 25. Pakistan's case would be decided at this session based on its assessment of the progress made on six points for action.
Pakistan was put on the greylist of FATF in 2018 for deficiencies adequate in checking counter-terror financing (CTF) and anti-money laundering (AML) laws.
In October 2020, Pakistan was given time till February FATF plenary to make up for deficiencies pointed out by the world body. Prosecution and conviction of individuals banned by UN Security Council is a key requirement for getting delisted from the greylist. Earlier, there were some commentators who said that Pakistan ran the risk of being put in the blacklist by the FATF. Now, most are discussing the country's chances of getting out of the greylist!
Will FATF turn a Nelson's eye to Pakistan inaction against JeM? Well, we will know within a fortnight.