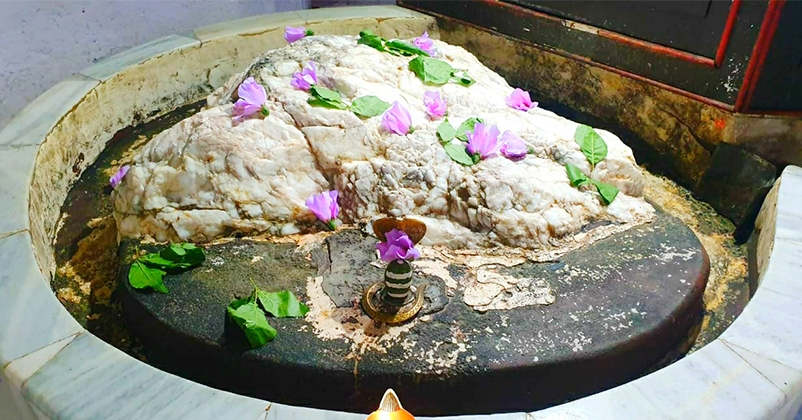 Ronik Sharma Advocate, J&K
Shri Budha Amarnath Ji is one of the Unique, holy and oldest Shrine like other Shrines in the Union territory of Jammu and Kashmir. This holy shrine is surrounded by two snowbound Mountains located at Village Rajpura (Mandi) in District Poonch and a very good place as per tourism point of view. Historically, it is believed that 'Rishi Pulasta' (Ravan's grandfather) performed his austerities at this holy place. The name of the famous river flows nearby is also known as "Pulasta Ganga". There are many stories connected with this sacred place, one is Rishi Pulasta had a darshan of Lord Shiva at this holy place and the second one is Lord Shiva and Goddess Parvati halted some time at this place on their way to Amarnath Ji of Kashmir.The uniqueness of this temple is that it looks like a palanquin and attractive because the inside mini temple is made out of one big rock with four doors representing four directions and open for everybody.
This Holy Shrine of Budha Amarnath Ji is regularly visited by the locals as well as pilgrims from all over the country throughout the year and a huge rush of pilgrims every Monday, Shiv Ratri, Shravan Month, Chhari Yatra, Raksha Bandhan, etc. The government of India has planned to promote religious tourism in our Country to attract Pilgrims as well as tourists which would increase the tourism sector and it will also give a boost to Rural tourism and the rural economy of the area. Many famous places like temples, Shrines, tourist spots are located in Rural India. As far as tourism point of view is concerned Shri Budha Amarnath Ji situated at Village Mandi district Poonch.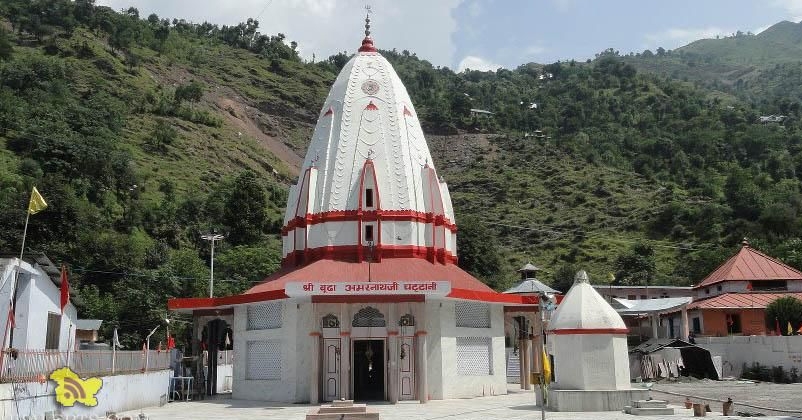 There are no such kinds of facilities and accommodation for a stay of Yatris as well as for tourists like Hotels, Guest rooms and other rented accommodations are not available except only a few rooms are available constructed by the temple management Committee for short stay only. In case of a huge rush of Yatris no space is available for stay. The annual yatra of Shri Budha Amarnath Ji Starts every year for 10 to 15 days only and the annual Chhari Yatra of Shri Budha Amarnath is before two days of Raksha Bandhan. Usually, the arrangements for the annual pilgrimage are made by the locals,Dashnami Akhada temple Committee, Budha Amarnath Committee, and volunteers of other organisations like Vishav Hindu Parishad and Bajrang Dal.
There is the little role of administration in facilitating yatra by providing sanitation facilities and security cover.However, there are very few facilities for pilgrims. Usually, the pilgrims who reached the Holy Shrine of Shri Budha Amarnath Ji from all over the Country with devotion were often met with some kind of hardships and mismanagement due to the lack of facilities and the number of pilgrims not increasing. Many times questions have been raised at different platforms for the betterment of Shri Budha Amarnath pilgrimage which would also increase and promote tourism in our area and locals will also get benefit from the increase of tourists.But due to the non-promotion and apathetic attitude of the successive governments, the desire results are not acquired.
Promotion at the Government level by providing better road connectivity, residential accommodation, hotels, promoting locally manufactured goods, local seasonal fruits, and other allied items needs to be displayed at an appropriate forum to attract the pilgrims as well as the tourists. These steps if taken would augment the economy of the locals. The Hon'ble Prime Minister of India has also emphasized a vocal for locals. Every year, two days before Rakshabandhan the holy (Chhari Mubarak yatra) procession starts from Shri Dashnami Akahada Poonch and leaves for Shri Budha Amarnath Shrine.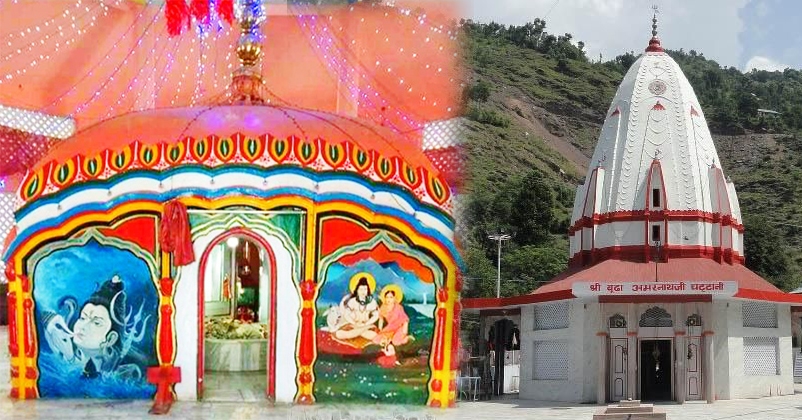 The huge participation of the Public in thousand numbers without any religion, caste, color, creed, etc. accompanies the Holy Mace (Chhari Mubarak) for Budha Amarnath Shrine.
In case, Shri Budha Amarnath ji Shrine Board is constituted than all the affairs of the Shrine would be better managed and co-ordinated which will include the creation of a Shrine management board at the Pattern of Shri Amarnath Shrine Board (Kashmir) would be instrumental in developing high-tech facilities for boarding, lodging and plying, etc to adjoining tourists spots and holy Shrines all this will add color to yatra and the visit would become memorable. Apart from the suggestions made above, there is a dire need for performing pooja at the holy Shrine through competent and knowledgeable persons who would also assist the pilgrims in worshipping the deity with Shastric manners. Suitable medical arrangements ought to be made for pilgrims throughout the year.
Proper preservation of Shrine funds and construction of building works and other essential constructions. Since the shrine is situated at such a place where the yatra of pilgrims can continue for the whole of the year as the place is accessible, even old and infirm people can come here for darshan of Lord Shiva who is unable to reach Shri Amarnath Ji at Kashmir due to inaccessible and tough terrain. Moreover, it is also enshrined in holy scriptures that the Darshana of Budha Amarnath Shrine of Mandi is kept at the same pedestal as the darshan of Ice Lingham of Shri Amarnath Ji of Kashmir.
If the boost is given to Shri Budha Amarnath Ji of Mandi by Constituting a Shrine Board to look after and manage the Shrine at the pattern of other Shrine Boards of Mata Vaishnodevi, Amarnath Ji, Shiv Khori Reasi, Sukrala Mata Shrine, etc. it would not only protect the ancient heritage site of our Country but will also boost the economy, living standard of the poor people living in the vicinity of Shri Budha Amarnath Ji shrine and will also boost the economy of District Poonch as a whole. Thus, the Constitution of the Shrine Board for Budha Amarnath Ji has become imperative looking at the rush and flux of the people from the whole of the country to visit and have Darshan of holy Shrine.
Moreover, the Scenic beauty of the adjoining area like Loran, Sabjian, Nandi Shool, Jabbi toti, holy Shrine of Sai illahi baksh at batalkote, historical Gurudwara of Sikhs at Nangali Sahab, the holy Shrine of Sai Meera Bakash at Shahpur, Chandi Mata temple Chandak are some of the attractions for the pilgrims, the gushing water of Pulast Ganga which not only soothes the body but gives ecstatic experience to the mind as well. The Union territory administration which is committed to pursue and promote both religious and scenic tourism needs to focus on this Holy Shrine situated at village Rajpura Tehsil Mandi in district Poonch by Constituting Shrine Board to clear the mess.
Ronik Sharma Advocate, J&K