Massive action against 'illegally' placed Rohingyas in Jammu; Big Question - How they infiltrated into Jammu!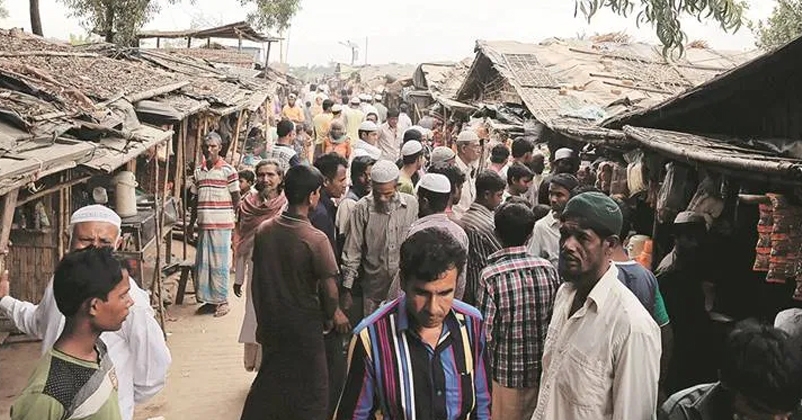 In a major action by the central government, nearly 150 Rohingyas have been detained in Jammu as they have no vital record or documents to produce for verification, a significant step that has been openly welcomed by the residents of the region. Although the government has a record of around 6000 Rohingyas only currently living in Jammu, there are substantial reports suggesting the figure to be no less than 13000. While the government has now up its sleeves to identify the 'illegally-placed' Rohingyas in Jammu and deport them back to Myanmar, the biggest question is how did Rohingyas manage to make their way to India and up to only Jammu? As of now, this entire initiative by the govt. concerning the national security might take a little longer but Rohingyas, a few of them who have also been accused of terror activities are set to be sent back to their native place, which is clearly, not Jammu.
Also, several videos of Rohingya refugees leaving their place of settlements in Jammu are doing the rounds on social media lately, which are allegedly of the ones living illegally in Jammu currently. Over 150 Rohingyas have been reportedly detained by the government while the rest of 6000 as per official record are to be identified. As per reports, neither have they a valid proof for necessary verification nor many of them have clear records to show, yet, NC leader Farooq Abdullah has expressed utter displeasure over government's big move.
From Myanmar to J&K, have Rohingyas made a 'silent & strategical' move to India?
Initially, the Rohingyas of Myanmar had started to migrate to India, especially Jammu and Kashmir around 20 years ago in 2002, when there was the government of the PDP-Congress alliance. Many such attempts have been made in the past to help Rohingyas infiltrate into India, and the figures have only multiplied over the years. During the 2014 Lok Sabha elections and the 2015 Jammu and Kashmir elections as well, only the Bharatiya Janata Party had raised the issue of Rohingyas in their manifesto.
In 2019, Home Minister Amit Shah had clearly announced that India would never accept Rohingyas. Earlier, in 2017, Union Minister Rajnath Singh had said that the process of identifying Rohingyas had begun in Jammu and Kashmir and a survey took place for the same. Now, as the Government has started the needful process to identify them and deport them back to Myanmar, it is certainly not going to be less than a big challenge but the move has been welcomed by the residents of Jammu especially. As of now, the Government has a record of only 6,000 Rohingyas in Jammu, however, several reports suggest that the number can extend up to 13000 or more. Although the Government has so far identified the majority of Rohingyas in urban regions, a large number of Rohingyas have already migrated to the surrounding districts where it will be extremely challenging to identify them.
Have Rohingyas been positioned in Hindu majority Jammu on purpose? Who is backing them? Is this a major plot to change the religious demography of Jammu, and the nation? Why not pick bordering Muslim nations over India?....are some of the big questions bothering everyone in India right now since the Government of India has finally, just come into action. And thus, the challenging, yet major move is being welcomed by one and all.