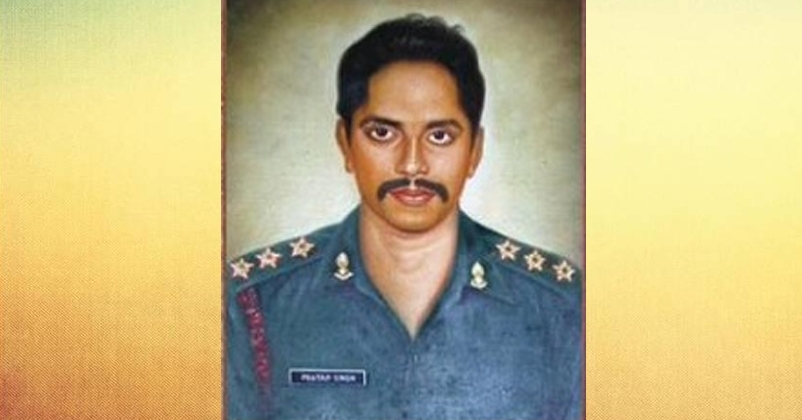 Captain Pratap Singh was deployed as an Observation post Officer in the Siachen area in April, 1983. The adversary made repeated attempts to petake a key post vital for our defences of Si achan, without_success. Their last attempt to take this key post was on 9th May, 1988 when they fixed pour ropes and a ladder sy stan on the ice wall below the past for the purpose. This attack was successfully beaten back by our forces. The ropes and I add er sy stem Pixed by the adversary, however, remained in position, making it possible for them to use it again in their Presh attempts to take the post. It was imperative that the fixed I opes were cut and the ladder un fixed to prevert fresh attacks.
in the 18th May, 1986, Second Lieutenant Ashok Chaudhry was able to reach and cut two of the pour opes. On the 26th May, 1988, it was decided to cut the semaining two fixed ropes and unfix the ladder. Captain Pratap Singh undertook this mission with the help of a jaw an descending down the ice wall. On Faaching the location, Captain Pratap Singh found a large quantity of annunition and grenades lying at the head of the ropes. While examining the Same, a gconade booby trap of the adversary explodad, severely wounding Captain Pratap Singh in his right arm and chest. Despite being severely wounded, the brave officer Crawied forward to the pixed ropes and cut them with his knife. He then un fixad the l add er system and let it fall down the ice wall. Then the gallant officer inched back to his own rope to come up the ice wall to return to the post but collapsed due to his severe wounds and made. the supreme sacrifice of his life for the nation.
Captain Pratap Singh thus displayed conspicuous gallantry in eliminating a grave threat to a key post op Our vital defence of Si achen at the cost of his life.