Recalling Dr. Shyama Prasad Mukherjee on his Martyrdom Day will be complete only if we recollect the process of exclusion of the then state of Jammu Kashmir from the Constitutional frame work of Independent India envisaged and put into practice by self-cantered short-sighted leaders.
Our younger generations need to be aware of the circumstances that were created by people who undemocratically manipulated positions of power and influence soon after truncated freedom of the nation. Role played by fading imperialists in this game of betrayal was too obvious.
Jawaharlal Nehru after becoming Prime Minister schemed to install Sheikh Abdullah, first as emergency administrator and later as full-fledged Prime Minister of Jammu & Kashmir.
Once in command the duo collaborated to, not only exclude J&K from the rule of Law under the Constitution of India but also to ensure that no opposition to their treacherous activities is allowed to sustain. In spite of strong objections and stiff opposition within the Constituent Assembly the Indian citizens living in Jammu Kashmir were denied rights and protection available to the citizens living in other parts of the country. Fundamental Rights and protection of the Supreme Court of India are just two examples in this regard as both of these were abused to tilt in case of Dr. Shyama Prasad Mukherjee.
It is well known fact that nationalists of Jammu and Kashmir resisted mechanisations of Nehru-Abdullah duo with all their might and sacrificed lives for what is well-known and documented as Paja Parishad Andolan and its slogan of
EK NISHAN EK VIDHAN EK PRADHAN

.
This nationalist movement and unheard of atrocities perpetuated by Nehru-Abdullah regime moved national leaders throughout country. It was at this moment that Dr. Shyama Prasad Mukherjee hailing from West Bengal decided to lend support to the people of Jammu Kashmir.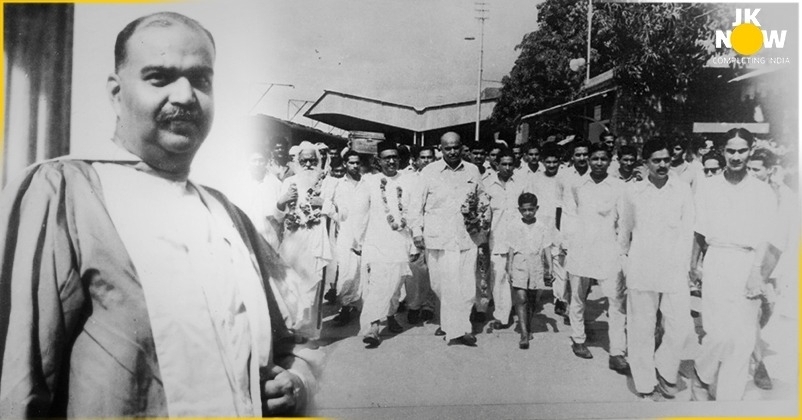 Dr. Shyama Prasad Mukherjee was not an ordinary person. He was an extraordinary leader and a celebrated statesman, who at the age of 33 became the youngest vice-chancellor of Calcutta (Now Kolkatta) University in 1934. A qualified barrister and passionate educationist, Dr. Mukherjee was compelled to pursue active politics due to the terrifying political situation in undivided Bengal in the late 1930s. Over a short span of time, he came to occupy an important place in national politics and became independent India's first Minister of Industry and Supply under Jawahar Lal Nehru.
He resigned from the cabinet due to difference of opinion with the then-Prime Minister Jawaharlal Nehru on issues that included Jammu and Kashmir. Dr. Shyama Prasad Mukherjee 'died' after 40 days of being arrested for entering the state without permit. He passed away in jail under mysterious circumstances, mystery which continues till date.
Roles played by different people in power needs to be revisited & re-evaluated to avoid repetition of such mistakes anywhere in the country.
Even a cursory examination of what Sheikh Abdullah writes in Aatish Chinar his 'claimed' autobiography explains soaked hands and dirty politics behind his custodial Death.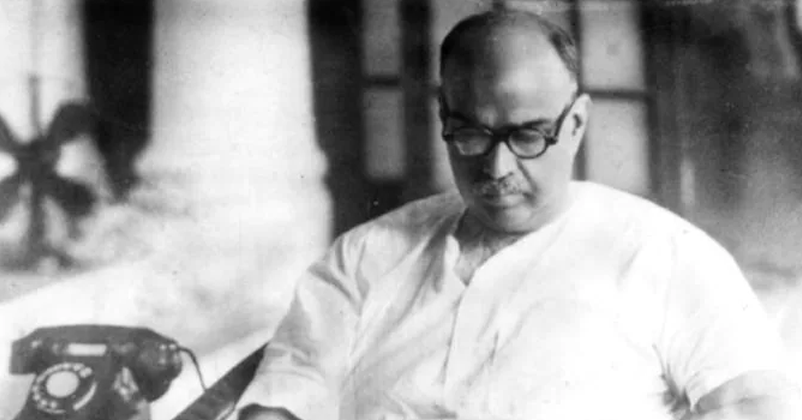 One thing needs to be highlighted that people who appreciated Sheikh Abdullah as a "man who was instrumental in mobilising Muslim opinion in the valley in favour of India after Partition" say , "The Sheikh, his Master's in Science notwithstanding, was not much of a wordsmith and one has the feeling that even the Urdu version has been doctored". The joke goes that Autobiography of Sheikh Abdullah was written by Dr. M.Y. Teng.
Now lighter moments apart, Sheikh Abdullah says Dr. Mukherjee was arrested by Bakshi Ghulam Mohammad. "Bakshi Sahab Ne unko Kanoon Todney Ki Padash mein Giraftar Kiya".
" Dr. Mukherjee Ko Srinagar Laya Gaya. Jab Mein Ne Yeh Khabbar Suni to Mein Ne Bakshi Sahab Se Kaha Ki Dr. Sahab Ko Kisi Kisam Ki Takleef Na Honey Paye". Page 588-589 Aatish Chinar
So Sheikh is essentially saying even as all powerfull Prime Minister of Jammu Kashmir he was not aware and he came to know about arrest once Dr. Mukherjee was brought to Srinagar. And what did he do after hearing the news? He told Bakshi Ghulam Mohammad to ensure no inconvenience is caused to Dr. Mukherjee. Illegality of arrest and subsequent shifting of a national leader of Mukherjee's stature from jurisdiction of Kathua Police to Srinagar did not bother him. Nor did he found it necessary to deliver Justice.
Sheikh Abdullah exposes his real nature again when he says that once he came to know that Dr. Mukherjee was unhappy with his seclusion, He passed on directions to bring Pt. Prem Nath Dogra –arrested in Jammu- to Kashmir to keep company with Dr. Mukherjee.
MERE KANOO MEIN JAB YEH BHANAK PADI KI Dr. SAHAB TANHAIEE SE BEZAAR HO CHUKE HAI TO MEIN NE HIDAYAT KEE KI Pt. PREM NATH DOGRA KO JINHE PRAJA PARISHAD KEE AGITATION KE SILSILE MEIN JAMMU MEIN HIRASAT MEIN LIYA GAYA THAT Dr. SAHAB KE PAAS LAKAR UNKE SATHI KI HASIYAT SE RAKHA JAYE
Sheikh Abdullah tries to cover his involvement by blaming Nehru and all others for showing disregard to Dr. Mukherjee. He writes
JIN DINO Dr. SHYAMA PRASAD MUKHERJEE KASHMIR MEIN NAZARBANDH THE US DAURAN Pt. JAWAHAR LAL NEHRU AUR MAULANA ABULAAM AZAD UKEY BAAD DEEGAR TASHREEF LAYE. WHO YANHA KAIEE ROZ FARDKASH RAHE AUR CHESHMASHAHI KE JIS MEHMAN KHANE MEIN WHO THEHREY THEY WANHA SE Dr. MUKHERJEE KEE NAZARBANDHI KA MUQAM MEEL BAR SE DOOR NA THA.
That Jawahrlal Nehru and Maulan Azad visited Kashmir during the confinement of Dr.Mukherjee and stayed at Cheshma shahi not a mile away from where Dr. Mukherjee was put into captivity.
No comments are needed in my opinion on this self-explanatory dishonest statement.
On page 541 of the book Sheikh Abdullah explains the benefit of restricting the jurisdiction of the Supreme Court of India. He states that they not been away from the influence of the highest Court of country he would not have been successful in enforcing epoch making policies which he thought were good for people and earned him all round appreciation.
He writes, MUJE YAKEEN HAIN KI AGAR 47-53 TAK HUM SUPREME COURT SE DOOR NAHI HOTE TO HUM AWAMI BEHBOOD KE WHO SAB KADAM NAHI UTHA SAKTE JINHONE JA SIRF RIYASAT KE AWAM KEE TAKDEER BADL DALI BALKI DER SE HI SAHI SARE MULK KEE DAAD HASIL KI.
Same is the case with official language and university etc. Sheikh Abdullah makes no effort to conceal his real intentions. He only tries to justify them without recognising impact on the people of Jammu & Kashmir.
Sheikh Abdullah's claims of people centric policies have subsequently proved to be nothing but a camouflage for his selfish considerations. In a self-righteous way he did not hesitate for a moment in criticizing close colleagues and friends even his mentor.
From a distance it looks like he was really bothered about the conditions of Kashmiris. Nothing can be far from the truth. He was interested in creating his own sultanate. Concentration of political power unfairly in Srinagar city is its living proof. He and his party were grossly opposed to Jammu and Hindu minority of Kashmir is an established fact. But his aversion to a substantial section of Muslims including Gujjars and Paharis is also visible.
But it was for the people and great leaders like Dr. Shyama Prasad Mukherjee and the party he founded that in less than eight decades Jammu Kashmir was integrated completely with rest of the country. The Constitution of India flows freely to every nook and corner of UT. National Flag is flying proudly everywhere including hearts of citizens.
Objective of EK NISHAN EK VIDHAN EK PRADHAN stands achieved. There could be no better way of paying homage to this great Patriot than to have achieved the objective for which he sacrificed his life.

(Writer Ajey Bharti is Former MLC and BJP Spokesperson in Jammu & Kashmir)