23 July, 1999: On this day, Vir Chakra Awardee Sepoy K Ashuli, laid down his life in the service of nation in Kargil War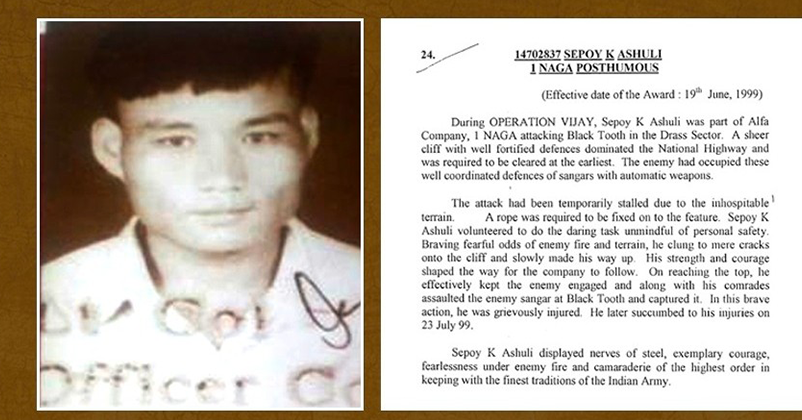 Sepoy K Ashuli of the 1 Naga regiment was killed at Drass on July 23 shortly after he and his colleagues captured a Pakistani bunker. The Naga soldier left behind his wife, L. Adaphro, and seven-month-old son Hriyo. Ashuli was the sixth Manipuri soldier to be killed in the Kargil-Drass sector.
1 Naga was tasked to capture Black Tooth, a steep cliff close to Tololing.
Pakistan had set up well-fortified bunkers with automatic weapons covering all approaches. From its vantage point, the enemy was targeting the National Highway.
But the attack had to be temporarily halted because of the near impossibility of scaling the mountainous terrain.
According to the Indian Army's official account, Sepoy Ashuli Mao volunteered to fix a rope on the cliff unmindful of personal safety.
'Braving fearful odds of enemy fire and terrain, Sepoy K Ashuli clung to mere cracks on the cliff and slowly made his way up to the feature. His strength and courage shaped the way for the company to follow. On reaching the top he effectively kept the enemy engaged and along with his comrades assaulted the enemy bunker at Black Tooth and captured it. In this brave action, he was grievously injured and later succumbed to his injuries on 23 July 1999.
'Sepoy K Ashuli displayed nerves of steel, exemplary courage, fearlessness under enemy fire, unparalleled devotion to duty and camaraderie of the highest order in keeping with the finest traditions of the Indian Army and was awarded the Vir Chakra posthumously'.