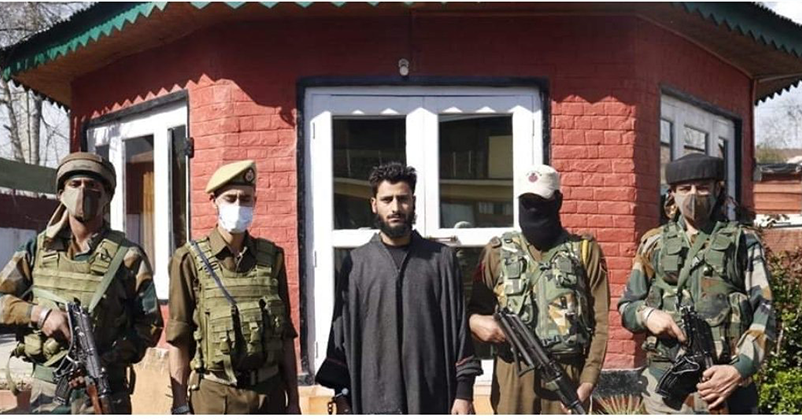 Security Forces on Tuesday arrested a terrorist in Sopore area of Baramulla district and recovered arms and ammunition from his possession.
Based on specific inputs regarding presence of a terrorist in Madina Bagh Moh, Dangerpura area of Sopore, a cordon and search operation was launched. As cordon was being laid , a terrorist was spotted who was trying to escape by taking cover of the narrow lanes, by-lanes and congested area.
However, the alert troops managed to nab the terrorist by displaying extreme restraint and exceptional fire control in not opening the fire.
Arrested terrorist has been identified as Owais Ahmed Mir of War Mohalla Gund Brat. Incriminating materials, arms and ammunition including a 9mm pistol, eight 9mm rounds, a pistol magazine and a Chinese grenade were recovered from his possession.
One LeT terrorist associate arrested in Baramulla
A terrorist associate of Lashkar-e-Toiba (LeT) was arrested and some ammunition recovered from his possession in J&K's Baramulla district.
70 live rounds of AK-47 were recovered during the personal search of the terrorist associate who was taken into custody immediately.
He has been identified as Ali Mohammad Bhat, a resident of Bonichakal Arampora Pattan, and said he is working as a terrorist associate with outlawed LeT. Case under relevant sections of the law has been registered against him and investigation is on.