30th April 1990 - When prominent Kashmiri Hindu Sarvanand Kaul `Premi' and his son were killed by Islamist terrorists in Kashmir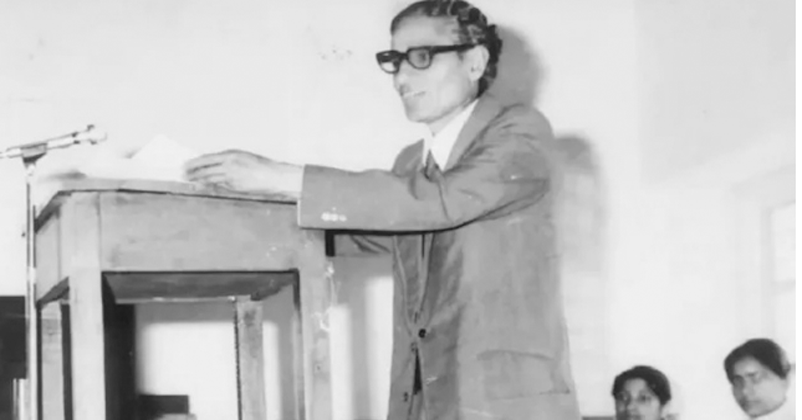 To destroy a community, history has it that art, language and literature are first destroyed in order to detach the people from their cultural roots. During the Kashmir insurgency in the 1990s, a planned execution took place to wipe out Hindus from the state. Prominent Kashmiri Hindus were murdered to end up the leadership of Hindus from the valley.
One such prominent personality of the community was the renowned scholar and poet, Sarvanand Kaul `Premi' (66). A school headmaster, social activist and freedom fighter of Quit India movement, Premi used to live with his family in Kashmir. He was a very religious and liberal person. When the attacks on Hindus started, his family too tried to convince him to leave the valley, but he refused. He believed in the "secular traditions" of his beloved homeland.
This was a time when many Hindus had fled Kashmir. But Kaul decided to stay back believing that the "family would not be touched due to the goodwill" that Premi enjoyed in the society.
The chain of events on 30 April 1990
On 30 April,1990 three terrorists entered his house and ordered the entire family to gather in one room. The terrorists ordered that they should collect all their valuables and belongings like gold, jewellery, cash, pashmina garments, saris, shawls etc. in the room. The other gold ornaments that women and the men of house were wearing were snatched from them. Collecting all the family's valuables the terrorists asked Premi to follow them to meet the `commander'. To his scared family they said that "We mean no harm to him and he will return". Then Virender Kaul, (27) Premi's eldest son got suspicious and asked the terrorists to let him accompany his father so that he could lead the old man back home in the dark night. To which they agreed and with this uncertainty both the father and the son went out of the house.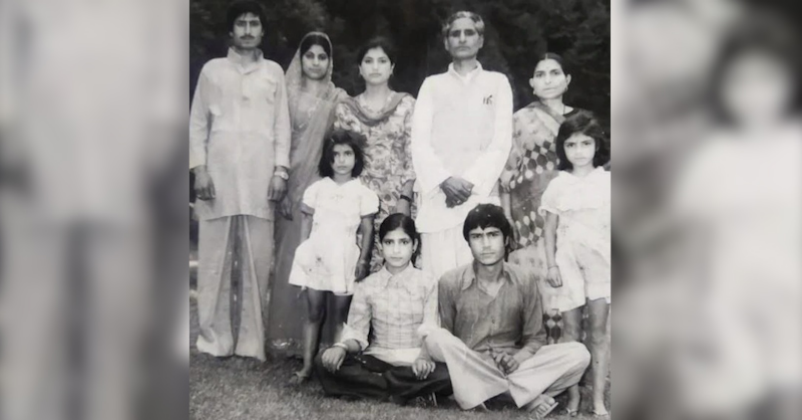 The family lost not only the eldest of family but also a young son
The young man and his father never returned home, only their bodies were found hanging from a tree the day after. The murderers killed both mercilessly. The spine-chilling and nauseating incident shook every eyewitness. Part of Premi's forehead where he used to apply sandalwood as part of the famous Hindu tradition, was cruelly pierced by a sharp weapon and the skin was peeled off. The entire body bore the marks of cigarette burns. The limbs were found broken and eyes of both father and the son were gouged out. They were later hanged and to be doubly sure shot dead too. Five days later, the grief stricken family left Kashmir, Never to return.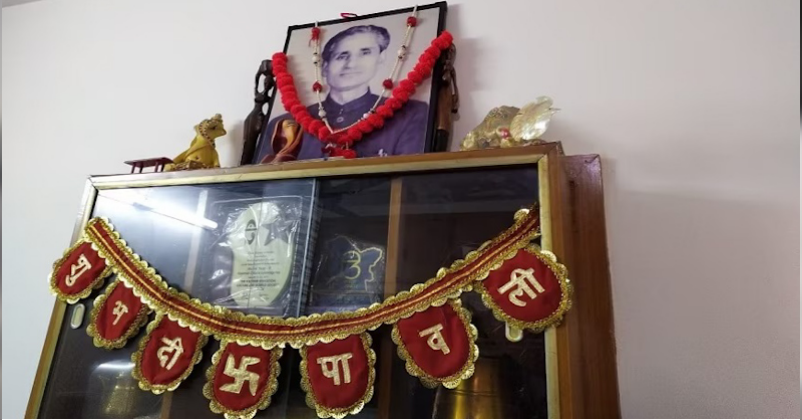 Five days after the tragedy, 13 members of the surviving Kaul family packed their bags, boarded a bus and left Kashmir forever. Some Muslim neighbours encouraged them to stay put, but a decision had been made. The Kaul family stayed for a few days in Jammu, at a hostel arranged by a contact and then moved to Delhi.
A firm believer of secular India, Premi had a rare manuscript of the holy Quran too at his house with reverence in his prayer room. But killers of this innocent yet dignified man did not think twice before gouging out his eyes and murdering him brutally.
'Premi' authored more than two dozen books, which include translations of the 'Bhagavad Gita', 'Ramayana', Rabrindranath Tagore's 'Geetanjali', and Russian folk tales in Kashmiri. His unpublished work included translations of Harivansh Rai Bachchan's 'Madhushala' and works of playwright Alexander Pushkin.
May 1 is now observed by the Kashmiri Hindu community as Shaheedi Diwas, or Martyrdom Day.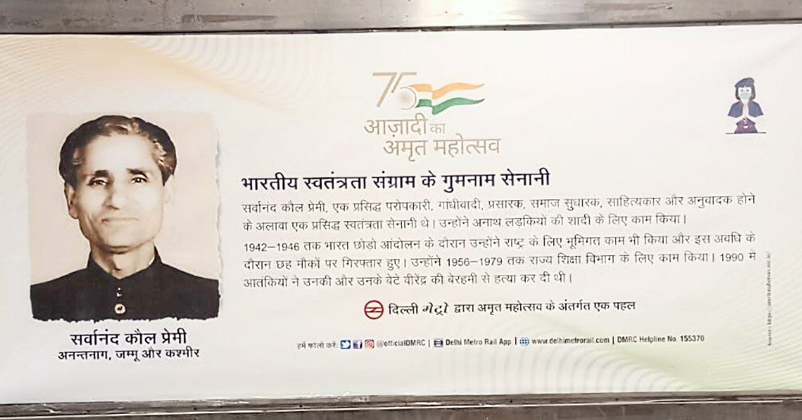 Sarvanand Kaul Premi's plaque at Metro station.
To pay homage to Martyr Sarvanand Kaul Premi and his son, Delhi Metro has installed a plaque at Bharakhamba Metro station to perpetuate the memory of this martyr and a great poem from Kashmir.