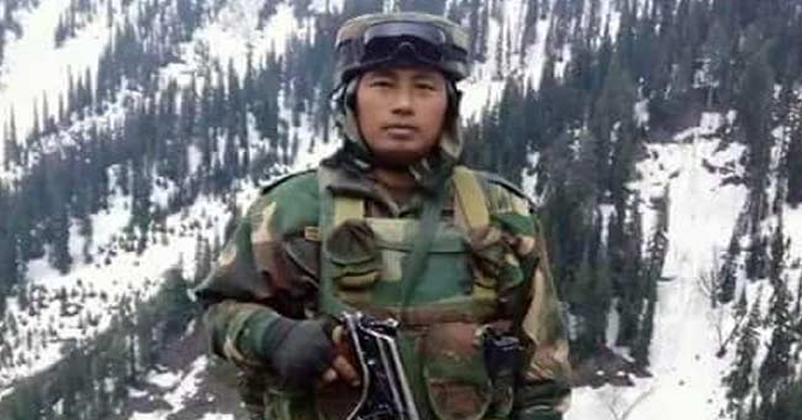 26 May, 2016 marks the death anniversary of Havildar Hangpan Dada, who attained martyrdom on the hilly slopes of Naugam, Jammu and Kashmir.
Hav Hangpan Dada, fondly called by his comrades as Dada, was born on 2nd October of 1979 in Borduria village in Tirap district of Arunachal Pradesh. Hav Dada joined the Army and was recruited to the 3rd Battalion of the Parachute Regiment on 28 October 1997. Six years later, he then went on to serve with the Assam Regimental Center and joined the 4th Battalion of the Assam Regiment on 24 Jan 2008.
In 2016, Hav Dada then volunteered to serve with the 35 Rashtriya Rifles engaged in anti-insurgency operations in J & K. Hav Dada was a soldier par excellence and was equally liked by his peers as well as seniors.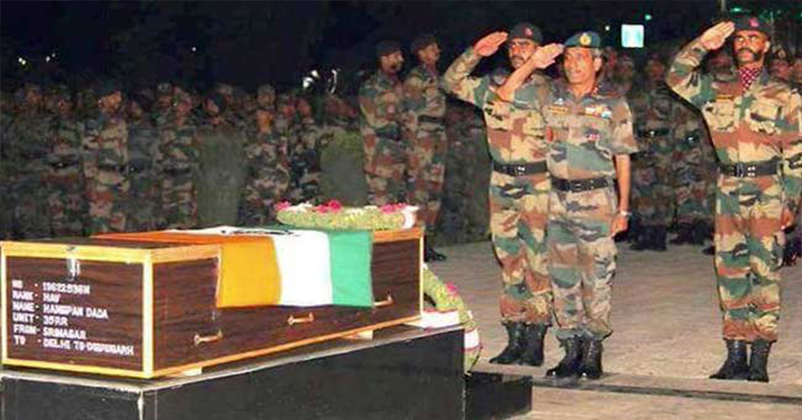 Naugam Sector Operation(J&K): 26 May 2016
During May, 2016, Hav Dada's unit,35 RR was deployed in the Naugam sector of Kupwara district of J&K. On 26th May 2016, when terrorists managed to break contact with our stops at Naugam Sector in Kupwara district of Jammu and Kashmir, Late Havildar Hangpan Dada along with his section was tasked to chase and trap fleeing terrorists. Displaying ingenuity and understanding of ground, the ex-commando moved with incredible speed in inhospitable snow bound high altitude terrain. This move blocked the escape route of the terrorists and surprised them.
In the ensuing gunfight, when his section was pinned down by heavy and accurate fire, with utter disregard to his own safety, he moved to a flank and closed in with terrorists sheltered in rocks and boulders, resulting in saving lives of his comrades. He displayed exemplary courage and presence of mind and killed two terrorists at close quarters. In the exchange of fire, he was grievously injured. Undeterred, Dada went after the remaining terrorists. In the process, he came face to face with the third terrorist whom he killed in hand to hand combat before making the supreme sacrifice. Thus, Havildar Hangpan Dada killed three terrorists in the operation single handedly and his action led to the elimination of fourth terrorist.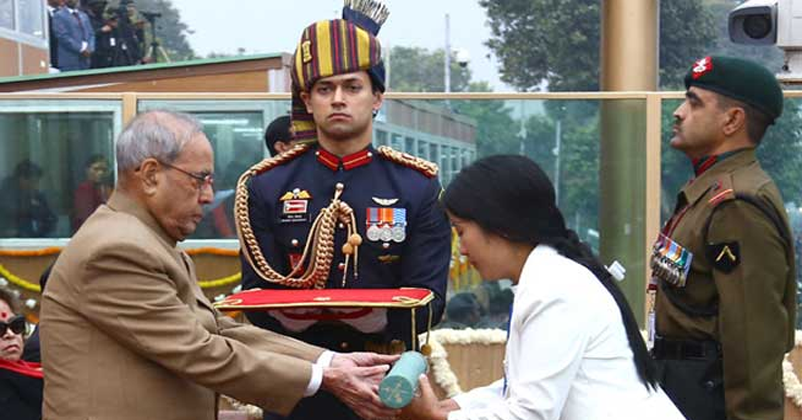 Havildar Hangpan Dada was awarded India's highest peacetime military decoration award for valour, courageous action or self sacrifice - "The Ashok Chakra" posthumously. His action and devotion towards his duty and nation made him a true entitled for the award. Nation salutes his sacrifice.